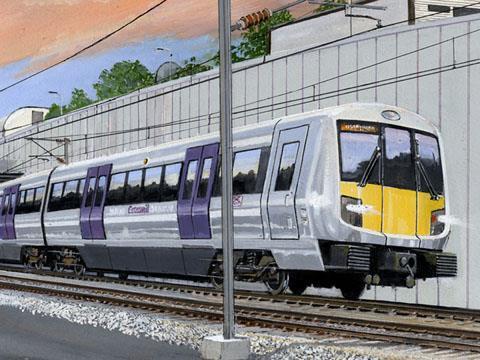 PRIME Minister Gordon Brown gave the go-ahead for London's long-awaited Crossrail project on October 5, with details of the funding package announced by Chancellor of the Exchequer Alistair Darling four days later. The total cost was put at up to £16bn, allowing for inflation during construction and inclusive of land, compulsory purchase and contingencies.
The government will provide more than £5bn, with London businesses contributing 'broadly' a third through a variety of mechanisms including a supplementary business rate to fund £3·5bn of debt. The projected operating surplus will meet the remaining third of the costs.
Direct contributions have been agreed with some of the key beneficiaries along the route, with property company Canary Wharf Group making a 'significant contribution'. It will be responsible for building the Isle of Dogs station in Docklands. The City of London Corporation will make a contribution from its own funds, and will 'assist in delivering additional voluntary contributions' from the largest London businesses. Operator of Heathrow, Gatwick and Stansted airports BAA plc has also agreed in principle to make a financial contribution.
The parliamentary bill to secure powers for construction is expected to receive Royal Assent in summer 2008, with enabling works to begin the following year and construction in full swing by 2010. When Royal Assent is received, Transport for London will become the sole owner of Cross London Rail Links Ltd, the project promoter which is currently a joint venture between TfL and the national Department for Transport. TfL will let the operating concession, and will be responsible for setting the timetable and service standards.
TfL sees Crossrail's key role as relieving London Underground, particularly the small-profile Central Line, while Mayor Ken Livingstone's statements have focused on the Heathrow Airport — City of London — Docklands axis.
With TfL aiming to provide a common high-frequency service standard across all modes in London, integration with existing commuter flows into Paddington and Liverpool Street stations is likely to prove a significant issue. Freight operators have already expressed concern over the potential loss of capacity.
Crossrail in detail
Crossrail will provide an east-west heavy rail link across central London, bringing commuters into central London without the need to change onto crowded Underground services at mainline termini, and providing faster access between the financial districts and Heathrow Airport.
At the heart of Crossrail are twin 6 m diameter tunnels which will be bored from Paddington station in the west across central London with six underground stations.
Services will link Maidenhead to the west of London with Shenfield in the east, with a western branch to Heathrow Airport and an eastern branch to Abbey Wood.
From Maidenhead to Paddington the trains will follow the existing Great Western Main Line, while east of Stratford the trains will use the Great Eastern Main Line. The branch from Whitechapel will serve the business area of Canary Wharf before tunnelling under the Thames to connect with the Southeastern network at Abbey Wood. In the longer term services are likely to be extended west to Reading, and an extension at the eastern end to connect with High Speed 1 at Ebbsfleet has featured in previous plans.
The total route length is 118·5 km, which will be electrified at 25 kV AC 50 Hz. While Crossrail will be built to a UK mainline loading gauge, Cross London Rail Links has confirmed it will not be suitable for double-deck stock because the increased cost of tunnelling and rebuilding existing lines would be disproportionate to the extra capacity gained.
A dedicated fleet of trains will be acquired, with the first services expected to run in 2017 and ramping up incrementally over 12 months. DfT says the line will bring an additional 15 million people within 60 min of London's key business areas and 'be commercially self-sustaining once operational', carrying a predicted 200 million passengers a year.