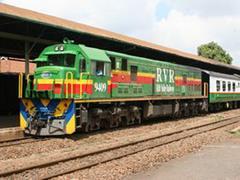 EAST AFRICA: Following persistent criticism from the Ugandan and Kenyan governments over the performance of the 2 350 km Kenya - Uganda rail network following the launch of a 25-year operating concession last year, the Rift Valley Railways consortium announced on August 4 that it was changing its senior management.
The consortium had been given a 90-day ultimatum by Kenyan Prime Minister Raila Odinga to tackle performance problems, which had been aggravated by the civil unrest in Kenya, a bridge washout near the Ugandan border and high levels of staff turnover.
A steering committee of RVR directors has appointed Brown Ondego, former Managing Director of the Kenya Ports Authority to the newly-created post of Executive Chairman, with Australian Kevin Whiteway taking over as Managing Director in succession to Sheltam's Roy Puffet who has stepped down. The changes follow suggestions that the World Bank and KfW had threatened to withdraw US$64m committed towards RVR's US$350m investment programme unless concerns about poor management were addressed.
Chairman of the steering committee Ngugi Kiuna told Kenya's Daily Nation that 'the creation of an Executive Chairman is geared at ensuring that we continue to enhance our management capacity to facilitate a speedy turnaround of the Kenya - Uganda Railways'. Ondego had been credited with transforming KPA from a moribund state parastatal to a profitable business. He is expected to become RVR's principal spokesman.
Two of the RVR original promoters, who were later dropped from the bidding consortium, have now been invited to become shareholders in the concession group. Primefuels Kenya Ltd and Mirambo Holdings Ltd join Sheltam Rail, Trans-Century Ltd, Centum Investment Co and Babcock & Brown Investment Holdings. In a formal statement announcing the new shareholders, RVR said 'with new measures in place, the recent difficulties experienced by the concessionaire will be overcome in the near future.'