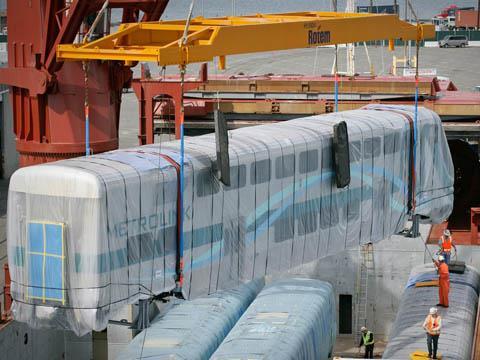 USA: The first two of 117 double-deck coaches incorporating Crash Energy Management being supplied by Hyundai Rotem to southern California commuter operator Metrolink under a $229m contract were unloaded at the Port of Long Beach on March 2.
The initial pair of cars were built in South Korea, but the remaining 56 driving and 59 trailer cars will be assembled at Metrolink's Eastern Maintenance Facility in Colton to comply with 'Buy America' procurement regulations.
Following a number of fatal crashes, Metrolink has specified additional crashworthiness measures for its push-pull cars to reduce deaths and injuries in any future accidents.
The CEM cars have energy-absorbing retractable couplers, a 'controlled crush space' crumple zone and tables designed to minimise passenger injuries in the event of a sudden stop. The driving cars have sloping fronts with built-in shock absorbers and seats which face to the rear when the train is being propelled.
Metrolink plans to retrofit its existing fleet with new couplers and tables, and convert its existing Bombardier driving cars to trailers.