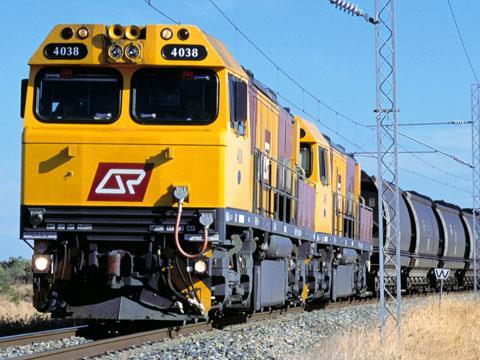 AUSTRALIA: The Queensland Coal Industry Rail Group of 13 mining companies has submitted an unsolicited cash offer to buy QR's Central Queensland rail network from the state government, which is intending to sell up to 75% of QR National as a vertically -integrated railway through an IPO in the last quarter of this year.
Announced on May 26, QCIRG's bid covers routes which are used predominantly or exclusively for coal. It excludes rolling stock and the freight businesses.
QCIRG Chairman Nick Greiner claimed the A$4·85bn offer represents a 'substantial premium to what is likely to be achieved' through the IPO, could be completed sooner and is not dependent on volatile equity markets, 'removing major risk for the state while also providing early settlement'.
The coal miners want to ensure on-rail competition, and feel that the IPO model and the government's regulatory regime announced on May 21 'does not represent an optimal or even reasonable basis for assuring the future of the state's major export industry'.
Advised by Citigroup, QCIRG has secured A$1·35bn underwritten by ANZ, BNP Paribas and Citibank NA, and A$2·05bn to fund the current QR capital plan and catch-up maintenance.
QCIRG comprises 13 coal producers, with Anglo American Metallurgical Coal, BHP Billiton, Ensham Resources, Felix Resources, Jellinbah Resources, Macarthur Coal, Peabody Energy, Rio Tinto Coal, Vale Australia, Wesfarmers Resources and Xstrata Coal as subscribers and Aquila Resources and New Hope Coal Australia as 'supporting parties' which may provide equity later. Commonwealth-owned infrastructure manager Australian Rail Track Corp will be an equity owner and provide long-term operation and maintenance services.
QCIRG said it is hopes the state 'will engage positively and provide due diligence information to facilitate this early completion.'