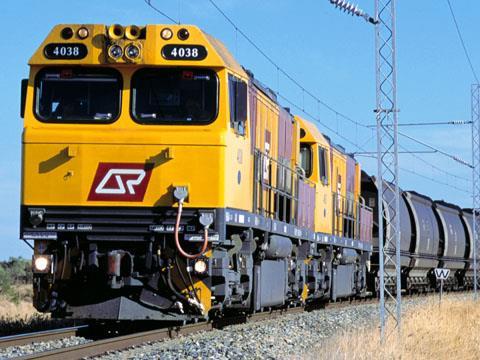 AUSTRALIA: The commonwealth government is to inject A$1·2bn into Australian Rail Track Corp as part of a A$4·7bn package of investment in railways, roads and education which was announced by Prime Minister Kevin Rudd on December 12.
The 'Nation Building' spending is intended to boost the competitiveness of the Australian economy. Rail's share includes bringing forward projects to upgrade infrastructure and increase capacity, including the construction of cut-offs and deviations, longer passing loops and replacing wooden sleepers with concrete. A$580m will be provided towards the A$1bn project to expand capacity between the Hunter Valley coal mines and Newcastle from 97 million to 200 million tonnes a year.
A$45m will go towards the A$90m Advanced Train Management System. Lockheed Martin has a A$73·2m contract to deploy a prototype of the GPS-based train control system on 120 km of the interstate network between Adelaide and Port Augusta.
Asciano CEO Mark Rowsthorn said the announcement 'demonstrates that the government recognises the economic importance of rail over the next 20 to 50 years and the need to prepare for the predicted doubling or tripling of the national freight task.'
Infrastructure Australia is currently examining a preliminary list of proposed infrastructure projects, and next month will present the government with an analysis of schemes to be prioritised within the A$12·6bn Building Australia Fund.
Nation Building Investment package
A$55·8m
Queensland border - Acacia Ridge upgrade
A$45·1m
Sydney - Brisbane line loops
A$29·7m
Melbourne - Junee line loops
A$45m
Seymour - Wodonga track upgrade
A$91·5m
Cootamundra - Parkes track upgrade
A$105·7m
Western Victoria track upgrade
A$50m
Wodonga Bypass duplication
A$42m
Cootamundra - Crystal Brook loops
A$76m
Melbourne - Adelaide line loops
A$23m
Adelaide - Kalgoorlie line loops
A$45m
Contribution to A$90m Advanced Train Management System trials
A$580m
Contribution to Hunter Valley coal upgrade