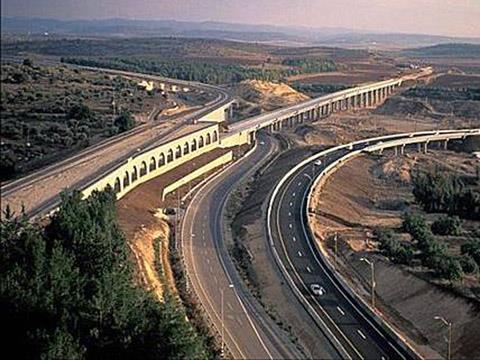 ISRAEL: The Ministry of Transport & Road Safety announced on February 24 that the government had approved the US$7·2bn first phase of the 'Israel Ways' transport investment package, promoted by Prime Minister Benjamin Netanyahu and Transport Minister Yisrael Katz. The ambitious plan originally envisaged expenditure of US$14bn over 20 years but was cut back at the request of the Finance Ministry.
Out of the approved expenditure, US$4·7bn will be allocated for development of the rail network over the next 10 years, with other works deferred until after 2020.
The biggest element in the first phase is the long-planned electrification of the existing lines radiating from Tel Aviv and the purchase of electric rolling stock, which will account for US$2·9bn. Other projects include the 23 km new line linking 'Akko and Karmi'el in Lower Galilee and revival of the former Hedjaz Railway route between Haifa, Afula and Beit-Shean, on which work is expected to begin in 2011. These projects are costed at around US$900m each.
According to Katz, the target journey times for the new lines are 32 min for the 44 km between Karmi'el and Haifa, 92 min for fast trains to cover the 136 km from Karmi'el to Tel-Aviv, or 117 min with intermediate stops. Beit-Shean to Tel-Aviv would be 102 min for fast trains and 127 min with stops.
During the first phase, planning work is to be progressed on the proposed revival of the abandoned 'Eastern' line from Kfar-Sava to Hadera East, including the double-tracking and realignment of the freight-only link between Lod and Rosh-Ha-Ayin South; the rebuilt route is intended to share the alignment of Highway 6. Planning will also be undertaken for adding a fourth track to the busy Ayalon Corridor cross-city link between Haghana and University stations in Tel Aviv.
These works would be undertaken during the second phase, which as yet remains unfunded. This phase could also include the long-discussed rail link to Eilat, extension of the Eastern line along the whole length of Highway 6, and extension of the Karmi'el line to Kiryat Shmona in Upper Galilee. Over-riding objections from Finance Minister Yuval Steinitz, Netanyahu has reportedly instructed the Transport Ministry and Israel Railways to start detailed design work for the lines to Eilat and Kiryat Shmona.