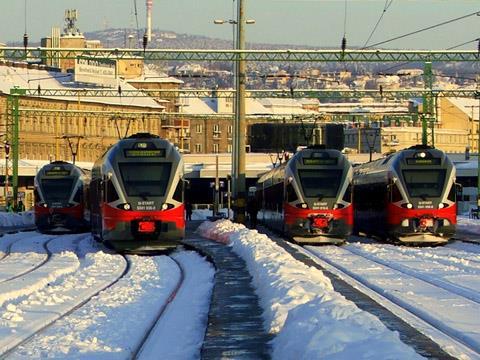 MÁV has introduced free wi-fi at Budapest's Déli, Keleti and Nyugati stations, plus Debrecen and Keszthely, as well as on 700 coaches.
Poland's Podlaskie voivodship has awarded PR a 37m złoty contract to operate passenger services totalling 948000 train-km/year in 2015-16.
TCDD's Eskisehir Hasanbey Logistics Centre opened on March 19. It is to be the main freight logistics centre in Anatolia.
Rhein-Main-Verkehrsverbund has awarded incumbent Vias a contract to operate Odenwaldbahn passenger services in Hessen for a further 12 years from December 13 2015, using a fleet of Bombardier Itino DMUs owned by the transport authority.
DB Regio launched a 'low-cost' Inter-regio Express service between Berlin and Hamburg on April 14.
On April 1 SNCF reported that its Ouigo low-cost TGV services from Marne-la-Vallée to Marseille and Montpellier had carried over 2·5 million passengers since starting on April 2 2013. Surveys have found that 500000 would not have travelled had Ouigo not existed.