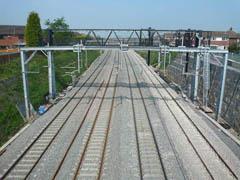 The planned merger of CD Cargo and ZSSK Cargo was endorsed by Czech and Slovak Prime Ministers Mirek Topolánek and Robert Fico on August 21. They agreed that both countries would have an equal stake in senior management after the merger, which has been under negotation since October 2007 (RG 8.08 p474). The equal representation is a political decision, as CD Cargo is a somewhat larger business than its Slovak counterpart.
The governments of Chile and Argentina have both now declared the project to build a 23 km base tunnel under the Andes (RG 3.08 p137) to be of public interest. A new hydroelectric plant at Punta de Vacas has been proposed to provide power for the electrified route.
RENFE's freight business has formed a joint venture with logistics company Algeposa aimed at increasing its share of the steel products market. The Spanish national operator owns 49% of Railsider which it hopes will increase its turnover from this sector to €71m this year from €67m in 2007.
SNCF and the Pays de la Loire region have signed an agreement covering the operation and funding of TER services in 2008-14. The French region is planning to undertake €700m of rail investment up to 2014.
Pakistan's Minister for Railways told the senate last month that a study has determined that is it not commercially feasible to construct a rail link from Havelian to China over the Khunjerab Pass which crosses the mountains at 4 700 m.
As part of a programme of legal reform in anticipation of possible EU membership, last month Croatia passed legislation to establish a railway agency which will provide independent safety regulation and ensure non-discriminatory access to the network.
On August 25 Prime Minister Vladimir Putin formally postponed construction of the 460 km Kyzyl - Kuragino railway in the Tuva region of Russia from 2012 to 2014.
Following electrification of the Tours - Vierzon route, the Centre region of France has funded the introduction of a suburban service between Tours and Bléré-la-Croix, comprising 11 return workings each day. The region provided €1·5bn or 65% of the necessary investment, including turnback facilities at Bléré to avoid conflicting movements with other services.
On September 17 DB Schenker subsidiary Railion Italia announced its offer to buy a 49% stake in Milano-based NordCargo had been accepted. Spun off from Ferrovienord in 2003, NordCargo transports freight between Germany, Switzerland and Italy, with 182 employees and revenue of €34m in 2007.
Train services are suspended for three months until November 18 on the 94 km Torralba - Soria route in Spain as a €16·6m programme of track renewals is undertaken.
On September 10 the European Commission approved an extension to the financial support being provided by the French and Italian governments during the experimental phase of Modalohr rolling motorway services on the 175 km Fréjus corridor between Aiton-Bourgneuf and Orbassano.
Under the Gröna Tåget research programme (RG 9.08 p725), a Bombardier Regina EMU set a Swedish rail speed record of 303 km/h between Töreboda and Skövde on September 14.
To finance the acquisition of 24 double-deck EMUs and 16 AGC trainsets for SNCF TER services, France's Rhône-Alpes region has signed a leasing agreement with a consortium of three banks led by Caisse D'Epargne Rhône-Alpes. The 38-year lease represents a saving of €25m on orders worth €300m, according to the region.
Swaziland Railways has spent US$16m upgrading the eastern line from Mpaka which connects end-on at Goba with the Mozambique Railways branch to the port of Maputo. SR CEO Gideon Mahlalela said the line is now in good condition for another five decades, and he foresees a revival of iron ore mining, the original reason for building the railway.
Passenger services between Shanghai and Chizhou in China's Anhui province were launched on September 1. Construction of the line took four years.
On August 8 the Croatian and Serbian national railways restarted regular freight traffic across the Bogojevo bridge over the Danube. Passenger services are planned for December.
On September 15 Class 120 Alvia gauge-changing trainsets replaced Talgo IV formations on RENFE's Vigo - Barcelona service, which at 1 341 km is the Spanish national operator's longest daytime route. Using high speed infrastructure between Zaragoza and Barcelona has cut 2 h 04 min from the journey time, with the service now operating daily instead of three days a week in each direction.
Czech Railways began running test trains through the Vitkov tunnels in Praha on September 1. The KC9bn cross-city link provides a high-capacity connection between three of the country's main rail corridors (RG 1.06 p42).
Discussing the Singapore - Kunming Rail Link at the 10th ASEAN-Mekong Basin Development Co-operation meeting held in Singapore during August, ministers agreed that a conference to attract investment for the project will be convened in early 2009. Malaysia accepted an invitation to be permanent chair of the working group.