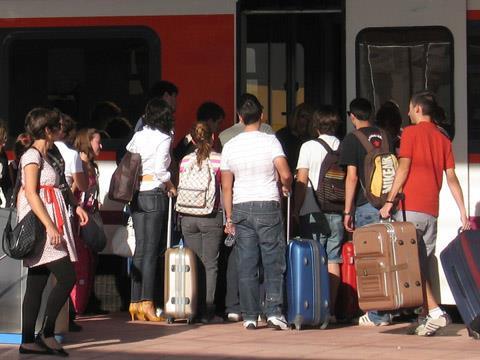 Following Asturias and Zaragoza, RENFE has introduced contactless smart card ticketing to its Málaga suburban network, comprising 25 stations and carrying an average of 20655 weekday passengers. The programme has cost a total of €162000.
The German Land of Mecklenburg-Vorpommern has directly awarded ODEG a two-year contract extension to operate diesel passenger services from Neustrelitz to Hagenow and Mirow until December 2012.
In the Netherlands work has started on a park-and-ride station at Maastricht Noord for opening in mid-2012. ProRail is to build a new station at Nijmegen-Lent by late 3012, 250 m south of the present temporary structure.
RENFE has opened a station at La Sagrera-Meridiana on the Barcelona suburban network. The €343m project involved lowering the tunnel alignment (RG 4.09 p9). Work is underway on a €33m rebuilding at Arc de Triomf, funded 65% by the regional government and 35% by ADIF, which includes enlarging the two ticket halls and accessibility works.
Cut-price train tickets are being offered between Zwolle and Harderwijk in the Netherlands to reduce road traffic during works on the parallel A28 motorway during March and April.