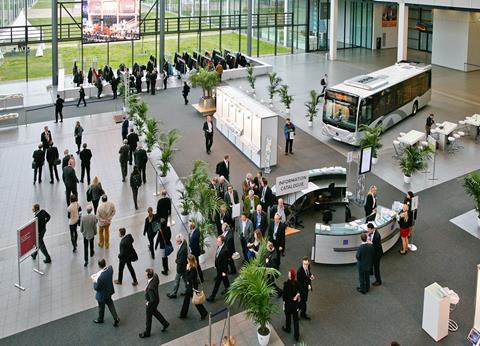 With a focus on multimodality, the IT-Trans transport technology trade show returns to the Messe Karlsruhe exhibition complex on March 6-8, showcasing the latest advances in ticketing and passenger information systems.
IT-Trans is both a trade show and a conference, covering 15 000 m2 of floorspace, and welcoming 250 exhibitors from more than 30 countries. Key topics to be addressed this year include:
data and the API economy;
customer relations;
enabling new transport options, including 'mobility as a service';
ticketing and payment;
operations and maintenance;
cybersecurity;
autonomous vehicles.
Among the innovations on show, apps and software tools intended to bridge the gap between existing and future transport modes feature heavily.
Smart ticketing
Stuttgart-based Moovel, a subsidiary of automotive group Daimler, already supports the ticketing and information app used by Karlsruhe transport association KVV, and it will be showcasing its upcoming innovations at the show. A key asset which the company is offering to transport operators is an option to add in complementary services, such as cycle hire or car-sharing, alongside urban rail or main line rail bookings.
Moovel is also working with INIT and Google to develop what INIT claims is the first virtual local transport smartcard to use the Android Pay m-ticketing platform. Now being introduced by Portland, Oregon, light rail operator TriMet, the virtual closed-loop HopFastpass is stored securely on the wallet app of an Android smartphone. The virtual smartcard uses INIT's MobileVario back-office platform, and enables users to benefit from open payment systems with EMV card processing, while ensuring that all the price capping and fare calculation advantages of a conventional smartcard are still available.
Also in smart ticketing, IVU Traffic Technologies will be introducing its IVU.ticket.app. The software comes with a journey planning and search tool, and generates VDV-compliant barcode tickets for bus and rail travel. Users can log in via their Facebook or Google accounts and store their payment method within the app for rapid ticket purchasing.
Axon Vibe will be highlighting its 'location-based contextual platform', intended to help transport operators 'orchestrate their customers' door-to-door journeys'. Among the functionality being offered by the company is geolocation-driven alerts personalised to the passenger, and 'be in-be out' fare calculation to allow 'seamless ticketing'.
Also on show will be a tool from PTV intended to model the impact of 'mobility as a service' on existing transport networks. As additional services are introduced into urban networks, the software permits operators to model how their fleet use and maintenance regime could be amended as transport networks evolve.
Passenger counting
Understanding passenger volumes and journey patterns is another area of focus for rail and urban transport operators, and several passenger flow management technologies will be on show in Karlsruhe.
The Focus range developed by French group Acorel offers automated counting systems tailored both to onboard environments and for stations or other static locations. The Focus range uses a high-precision stereoscopic sensor to mirror the functions of the human eye; it has two cameras to create a three-dimensional image. An algorithmic analysis of images in real time enables the operator to track any passenger movements in the detection field.
Meanwhile, Barcelona-based software company AWAAIT has been working with regional railway FGC to introduce its Detector anti-fare evasion tool. This real-time video tracking system is already in use at four FGC stations and is to be installed at a fifth this year. Machine learning algorithms are used to process video footage from the ticket gate areas in near real time; the images can then be used to feed 'very precise alerts' to security staff and revenue protection teams. Early trials of Detector are reported to have achieved a 70% reduction in fare evasion rates, and FGC says that so far 1·2 million individual ticket inspections have been avoided.
Evolution in routers
IT-Trans also showcases a range of telecoms and digital network tools. Among the suppliers active in this segment is NetModule, which has developed a range of specialist routers to support voice and data communications in challenging transport environments. The company's NB1800 routers are designed for station applications, and can be used to support vending machines, digital signage and access control systems.
Fellow Swiss company WLAN-Partner will be displaying its WLP2800 and WLP3800 open routers for use on trains, trams and buses. These can support the use of four radio networks simultaneously to maximise connectivity and speed of data access.
LTE technology is at the heart of the updated routers available from IPmotion. Its CAR-A-WAN range has been modified to use AMD's G-Series CPU, which allows for the bespoke separation of the main and auxiliary circuit boards, giving greater flexibility to tailor the router to customer needs. IPmotion is in future expecting its routers to be able to handle up to 500 users per device on a public wi-fi network.
Railway antennae will be the focus of the Antonics-ICP stand, where the company will be showcasing its rail-certified dual GSM-R bandstop filter and multiband DC blocker.
First time exhibitor Tronteq will be showing its Roqstar range of rugged Ethernet switches with M12 connectors which are aimed at meeting the shock and vibration requirements of tram and light rail applications.
Among the tools being showcased by transport IT specialist Trapeze is an update to its LIO operational control suite tailored to the needs of small and medium-sized rail and urban transport operators. It will also be introducing its PitStop tool aimed at depot and fleet management applications. Among non-rail applications, Trapeze will be offering visitors a demonstration of its Trapizio autonomous road vehicle, developed using software from its AmoTech subsidiary.