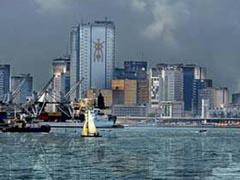 FOR MANY years we have been tracking plans to develop a standard gauge network in Nigeria. Earlier this year it looked as if progress was imminent, with the signing of an agreement for China Civil Engineering & Construction Co to build a double-track line from Lagos to Abuja and Kano for US$8·3bn.
Alas, it is all on hold again. Incoming Minister of Transport Diezani Alison-Maduekwe halted work in November, claiming that the programme was 'posing challenges to the current administration'. The intention to source funding from the country's crude oil surplus had 'constitutional limitations', she said, and an anticipated US$1·28bn loan from China 'crashed for a number of reasons'. In other words, there is no money.
Only a few months ago, the Director-General of China's Ministry of Commerce Ren Yi asked former transport minister Mallam Mohammed Habib Aliyu for an explicit assurance that Nigeria had enough money, given that a previous Chinese-assisted rehabilitation scheme had run into serious financial difficulty. Aliyu said that project had collapsed due to 'unhindered corruption (amongst other things) and lack of due process', but these factors no longer existed, 'certainly not in the present government.' Nigeria's foreign reserves stood at US$45bn, he told Ren Yi. 'So what is US$8bn? Money is not a problem.' Alas the 'present government' is also no more.
Echoing his predecessors' actions, President Umaru Yar'Adua has established a 'high-powered committee' to review options, including rehabilitation of the 1 067 mm gauge network. Alison-Madueke has promised drastic reforms to make Nigerian Railway Corp a 'more enterprising and result-oriented organisation', noting that its performance had declined abysmally, 'even by African standards'. Today NRC's annual freight traffic stands at a 'really terribly dismal level' of less than 10 000 tonnes.
NRC has been directed to 'utilise internally-generated revenue to focus on selective rehabilitation works'. This seems more realistic, but with virtually no traffic it will be difficult to generate funds for investment. Don't expect rapid progress.