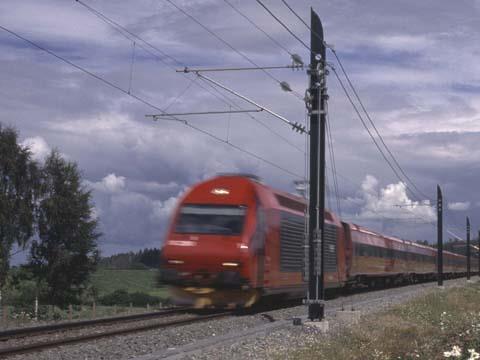 NORWAY: The government's 2009 budget allocates NKr8·84bn for rail spending, an increase of NKr1·3bn on 2008. There is a particular focus on maintenance and renewals.
Funding for infrastructure manager Jernbaneverket is up 22% to NKr7·07bn, allowing spending on maintenance to be increased by 25%. This will improve reliability and capacity, which director Elisabeth Enger said is crucial if users are to see the railway as an attractive option.
Spending on enhancements will be increased 36%. NKr220m has been allocated to improve punctuality in the Oslo region, and NKr90m for exceptional maintance including removal of speed restrictions on the lines to Bergen and Trondheim.
The budget allocates NKr200m towards the planning of new projects, including increasing the 24 km Oslo – Ski line from two to four tracks, and upgrades to Holm – Nykirke and Eidsvoll – Hamar.
NKr580m will go on freight projects, including terminals at Ganddal, Brattøra and Alnabru, passing loops on the Østfold, Gjøvik and Sørland lines, and measures to increase capacity.
'The challenges for the Norwegian railway are many and great, and this year's national budget shows a willingness to invest in railways', said Enger. 'With this proposal the government has fulfilled the framework for the National Transport Plan 2006-09. Our task is now to show that the money allocated to the railway is used well.'
Selected major projects funded
Project
Cost, m NKr
Completion
Lysaker - Sandvika quadrupling
840
2011
'Project Oslo', Etterstad - Oslo Tunnel - Skøyen - Lysaker
220
Lysaker station
260
2009
Sandnes - Stavanger doubling
761
2009
Barkåker - Tønsberg doubling
160
2013