TURKEY: With construction of new lines moving ahead, modernisation of the existing TCDD network is also getting underway. Meanwhile, draft legislation presented to the government last year envisages the restructuring of the rail sector to introduce competition between train operators.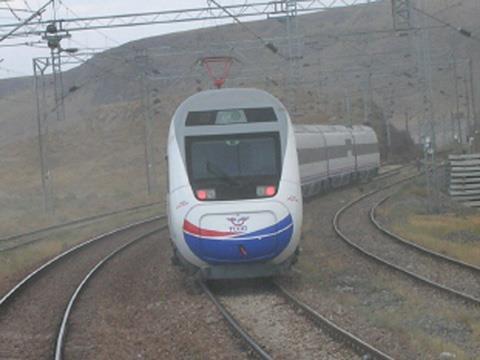 March is expected to see the start of passenger services on the Ankara - Eskisehir high speed line following the completion of commissioning tests with the first of 10 tilting trainsets being supplied to Turkish State Railways by CAF of Spain.
Presenting an overview of railway developments during 2008 on January 6, Transport Minister Binali Yildirim reported that only minor problems had arisen during the commissioning of the new trains, and he announced that test runs with passengers would begin by the end of February.
Under construction since 2003, the 250 km/h line between Ankara and Eskisehir is the first of a series of new lines intended to improve the competitiveness of the rail network. At present rail's market share is just 3% in the passenger sector and 7% for freight, but the ministry hopes to see these figures increase to around 20% as a result of a €1 000bn investment programme to be completed by 2025. Yildirim reported that in 2008 freight transport by rail had increased by 43%, and passenger traffic had risen 10%.
According to the minister, only 11 km of new line was completed in Turkey between 1946 and 2003, compared with an average of 128 km/year from 1923 to 1946. However, the last 50 years have seen substantial investment in the country's road network, leading to a dramatic rise in the level of car use and high levels of injuries and fatalities. The government has now recognised that increased investment in rail is needed to redress the balance. Yildirim says that since 2003 the rate of new railway construction has averaged 107 km/year.
New line projects
The hitatus in railway development has left many of Turkey's major cities not served by rail, or only accessible from the capital by circuitous routes. Much of the network is single track, and only 27% of route-km is electrified. The ministry has therefore drawn up plans for five double-track electrified lines suitable for 250 km/h, which will open up new routes and cut journey times dramatically. By 2013 it expects to have completed 1 938 km of new line.
As well as the Ankara – Eskisehir line, construction of the next section towards Izmit and Istanbul has commenced with the alignment being constructed from Eskisehir as far as Bozüyük although no track has yet been laid. Construction is also well advanced on a direct line from Ankara to Konya, on which the infrastructure works have largely been completed and tracklaying is getting underway. This diverges from the Eskisehir line at Polatli, west of the capital, and runs almost due south to meet the line from Afyon at Sarayönü, north of Konya. This route is expected to see trains running by the end of 2010.
Work has also started on the first section of a new line from Ankara to Sivas via Yozgat, which will shorten the distance between the two cities by 131 km, and reduce the journey time from 11 h to 5 h (RG 5.06 p285). And to the west of Istanbul, surveying has started for a 230 km high speed line between Halkali and the Bulgarian border.
Other new routes envisaged include a line running southwest from Ankara to Izmir, which would also diverge at Polatli. This will intersect at Afyon with a north-south line from Eskisehir to the Mediterranean coast at Antalya, which is currently not served by rail. A branch from the Eskisehir – Izmit line at Osmaneli will run to Bursa, and another new line will diverge from the Sivas route at Yerköy to head southeast to Kayseri. Routes to serve eastern cities such as Erzincan, Malatya and Gaziantep are also under consideration.
International links
As well as strengthening rail's position in the domestic market, Yildirim is keen for Turkey to play a bigger role in the international market. TCDD is stepping up intermodal services to various European destinations, and is now looking at links to its eastern neighbours which could create a so-called 'New Iron Silk Road' As well as the Kars – Tbilisi – Baku link (below), connecting Turkey with the Caucasus, Central Asia and even China would offer an alternative route for landbridge traffic avoiding Russia. A second cross-border link with Georgia is planned to connect the GZ terminus at Batumi with Hopi in Turkey, and a train ferry link across the Black Sea between Poti and Samsun is also envisaged. Studies are continuing for a bypass around Lake Van on the route towards Iran.
Improvements to the rail network are intended to capitalise on the huge potential for Turkey to become a railway conduit between Europe and Central Asia. Under a six-year programme running to 2013, TCDD is expecting to renew almost half of the track on its 8 697 km network. Upgrading is already underway on the main line between Istanbul and Adana via Konya, with through traffic diverted via Kayseri or to a substitute bus service.
And in October TCDD selected Ansaldo STS as preferred bidder for a €126m contract to resignal two lines in the Adana area totalling around 410 route-km. The Bogazköprü – Ulukisla – Yenice and Mersin – Toprakkale lines will get new lineside signals, CTC and ETCS Level 1 for train protection.
With construction work on the Marmaray project (p56) expected to reduce the capacity for freight train operations through Istanbul, TCDD began work in 2007 on an alternative route. A 31 km branch from Muratli on the European main line runs to the port of Tekirdag on the Sea of Marmara, from where train ferries provide a link to Derince near Izmit. In the longer term, Tekirdag is expected to become a rail/sea intermodal transhipment centre.
Meanwhile the first of 10 planned logistics terminals to be completed by 2010 has been opened at Samsun.
Reform proposals
In the longer term, Turkey is looking to adopt a more liberalised structure for its railways, which would enable it to meet future requirements for EU accession. Plans for restructuring TCDD have been drawn up following a study by external consultants funded by the European Commission and the German government under a project to 'reform and strengthen' the Turkish rail sector.
Whereas TCDD currently operates as a directorate of the Transport Ministry, three independent bodies will be established to regulate on-rail competition and network access, ensure safety and to investigate accidents. Passenger and freight train operations will be hived off into a wholly-owned subsidiary company known as Detas (Turkish Railway Transport), effectively leaving TCDD as the infrastructure manager.
According to TCDD Director-General Süleyman Karuman, 'creation of competition in the railway sector will pave the way for the development of public and private enterprises'. At this stage, he insists, there is no intention to privatise Detas.
Karuman believes that restructuring of the rail sector will encourage more investment in modernising the infrastructure, and will allow TCDD to focus on enhancing both the quality and the capacity of the network. Noting that the proportion of state funding allocated to rail within the transport ministry's budget has risen from 6% in 2002 to 42% in 2008, he confirms that work will continue on developing the network of high speed lines, and improving international links as well as renewing existing routes.