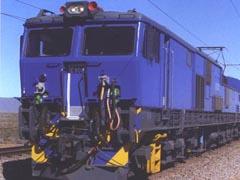 SOUTH AFRICA: Mining group Kumba Resources and Transnet Freight Rail have jointly announced a R4m project to increase the capacity of the Sishen - Saldanha iron ore line from 47 million to 60 million tonnes a year.
Kumba is to be allocated 9 million of the additional 13 million tonnes capacity, and Assmang, another large mining concern, will get four million tonnes.
Kumba CEO Chris Griffith has announced that the new Sishen South mine is to be developed at a cost of R8·5m.
Transnet Freight Rail has committed to acquiring additional locomotives and rolling stock, upgrading the traction supply, putting in more crossing loops, and constructing a 36 km branch from the Sishen - Saldanha main line to Sishen South by 2012.