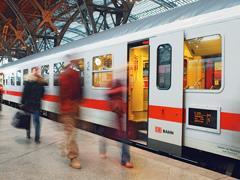 Sami Khilji has been appointed Chairman & Secretary of the Pakistan Railway Administration, replacing Kashif Murtaza as part of a series of changes aimed at overcoming the railway's recent deficits. Saeed Akhtar has been named General Manager, Operations, in place of Nasir Ahmad Zaidi who has taken over Akhtar's former role as Federal Government Inspector of Railways.
Abdul Jabbar has been appointed as Chief Commercial Manager in place of Anzar Ismail who becomes Chief Traffic Manager, Dry Ports. The former Divisional Superintendent, Quetta, Razzaq Shah has become Chief Personnel Officer, filling a vacancy that was being covered by Chief Projects & Planning Officer Nisar Gondal.
Amir Khan has been appointed Chief Engineer, Survey & Construction, and Shakeel Ahmad becomes Chief Engineer, Design. Malik Muhammad Hayat has been appointed Chief Mechanical Engineer, replacing Najamul Hasnain who has become Director, Technical, at the Ministry of Railways in succession to Humayun Rasheed. Hayat's previous post as Divisional Superintendent, Workshops, at Moghalpura, has been taken by Shah Muhammad, and Sameer Gandapur becomes Chief Controller of Stores.
Former Divisional Superintendent at Lahore, Mobin Uddin has been named as Managing Director of the Islamabad Carriage Factory in place of Habibur Rahman Khattak, and is joined at the plant by Mehmoodul Hassan as Director, Procurement.
Jalal Uddin has been named Divisional Superintendent at Rawalpindi, while Muhammad Saleem becomes Divisional Superintendent, Peshawar, and Aftab Memon takes over as Divisional Superintendent, Lahore, where Aslam Gondal is now Deputy Divisional Superintendent. Alfred Ruckstuhlhas been appointed Bombardier's representative at the European Union. He will retain his position as Chairman of Bombardier Transportation (Switzerland), but Stéphane Wettstein will take over as CEO in July.Michael Wheelerhas been named Vice-President, Transportation, at US freight operator Norfolk Southern.S S Khuranahas been named Chairman of the Indian Railway Board.Andrew McNaughton,currently Chief Engineer at Network Rail, has been seconded to High Speed 2, a new company formed to develop the UK's latest high speed plans. NR has also announced the appointment of Patrick Butcher as Group Finance Director; he will take over from Ron Henderson in April.Diego Diazhas left Bombardier Transportation to join Systra USA as President & CEO.Tom Joynerhas been named Operations Director at UK passenger operator First Capital Connect.Marin Anton has been appointed Romania's Secretary of State with responsibility for railway infrastructure. Thomas Carper has been elected Chairman of Amtrak.David Middleton has replaced Malcolm Reed as Chief Executive at Transport Scotland.Tomáš Krsek has been appointed Chairman & CEO at Škoda Holding.Arvo Smiltinish, Director of Infrastructure, will head AS EVR Infra following the restructuring of AS Eesti Raudtee (p8), with the former director of the Transport Service business Sergei Federenko as a member of the management board. Freight operator AS EVR Cargo is led by the former Director of Rolling Stock Oskar Kalmus.Peter Baskakov has been elected to a second three-year term of office as General Director of Russian freight operator TransContainer.Gheorghe Udrite has been named General Director of Bucuresti metro operator Metrorex.Chris Zimmerman has been become Chairman of Virginia Railway Express.Jerzy Kriger has been named President of Polish regional passenger operator PKP PR. Zbigniew Szafraski has been confirmed as President of infrastructure manager PKP PLK, after taking over the role in a temporary capacity in January (RG 2.09 p62). Bogdan Szafraski has become Director, Economy & Finance, and Krzysztof Groblewski is Director, Infrastructure Maintenance.Thamsanqa Mbele has been appointed GE's Regional Executive for Southern Africa.Jim Graham has been elected Chairman of the Washington Metropolitan Area Transit Authority.
It is with great sadness that we have to record the deaths last month of two Railway Gazette contributors, who were both well-known followers of the high speed rail sector. Mikio Miura, former President of Gallerie Trains du Monde in Tokyo died on February 9. Brian Perren, who authored a standard work on TGVs during a 55-year career as a railway writer in the UK and Europe, died the following day.