ALGERIA: The bidding process for construction of the High Plateau line is due to start this autumn.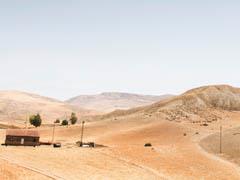 Dipl-Ing Jost Mazur
Head of Transport Department, Bernard Ingenieure ZT GmbH
After a difficult period of civil unrest, Algeria has begun a programme of modernisation and development. Apart from establishing new industries and launching a range of new projects, the programme envisages expansion and modernisation of the national transport infrastructure.
The state railway SNTF has for some time been examining plans to develop new lines in the area south of the Atlas mountains. Known as the High Plateau region because it lies around 1 000 m above sea level, this sparsely-populated area stretches from the Atlas foothills to the edge of the Sahara desert. Its western fringe lies on the Moroccan border, and from there it extends eastwards for around 500 km.
The High Plateau is a fertile region which has long been the country's breadbasket. Now it is to be populated and developed with the help of new infrastructure projects and industrial development. Schemes include construction of a new city, the building of motorways and railways with links to the existing rail network.
In 2005 a consortium formed of the German company Obermeyer Planen + Beraten GmbH and Bernard Ingen­ieure ZT GmbH of Austria was entrusted by the planning authority Aneserif (Agence National d'Etudes et de Suivi de la Réalisation des Invest­issements Ferroviaires) with the task of designing three key sections of a long-planned 930 km east-west railway known as the High Plateau line. The three sections run from Saida to Tiaret, Ain Oussera to M'Sila and Relizane to Tissemsilt via Tiaret.
Technical parameters specified in the consultancy tender required the route to serve the towns of Tiaret, Tissemsilt and the new city at Boughzoul before terminating at M'Sila, SNTF's railhead for the line to Barika and Ain Touta and a new line currently being built north to Bordj Bou Arreridj.
West of Saida the line will continue for 120 km to Moulay Slissen on the existing route from Oued Tlelat to Redjem Demouche.
The branch running north from Tiaret will connect at Relizane with SNTF's main line that runs parallel to the coast from Alger to Oran. The branch will be around 120 km long, and in this distance the alignment has to overcome a difference in height of around 1 000 m. Steepest gradient has been fixed at 1·6%, and there will be 6·9 km of viaducts and 3·4 km in tunnel. This line will serve Mechra a Asfra, Rahouia, Mendes and Zemoura.
West of Tiaret the route passes through a varied landscape, whereas to the east it traverses areas of marsh and dry riverbeds. The lines are intended to carry both passenger and freight traffic, and initially they will be built as single track routes and not electrified. Maximum speed has been specified as 160 km/h.
No previous studies for the route were made available to the consultants, and the consortium's engineers were faced with the task of planning from scratch new lines stretching for more than 600 km.
The consultants were required to produce a preliminary study, an initial engineering design study, and a range of documents including draft tenders and specifications.
Among the specialist tasks involved were drawing up the alignment of the railway and associated roads, development of an operating programme, design and architecture for station buildings, plans for signalling and train control, design of major structures including bridges and tunnels, hydrological studies, establishment of a comprehensive ground survey and geotechnical work including ground bore sampling and analysis. All this work has now been completed.
Implementation
The first plans were generated using Advanced Spaceborne Thermal Emission & Reflection Radometer (Aster) data, which are based on satellite images, as well as digital Shuttle Radar Topgraphy Mission (STRM) land models on a near-global scale. These had a resolution of 15 m x 15 m and 90 m x 90 m respectively. The resulting maps allowed a broad route corridor to be established, the surface area of the corridor being roughly equivalent to the German Land of Baden-Württemberg.
Different alignments were examined for all three segments, which were then evaluated with the help of site visits and surveys. As some of the areas lay in uncharted territory, the planners had to rely on GPS data to determine their location.
The survey trips allowed photographs to be taken of locations where particular constraints existed or where it was simply not possible to route the railway. Various structures along the corridor were also recorded.
The consortium then evaluated the alignment possibilities and presented the preferred choice to the customer.
The next step was to create models of the terrain from aerial surveys with plans drawn to a scale of 1:5 000. Satellite photographs of the entire 5 000 m wide corridor were then taken. This exercise served to define plans for taking sample bores from the ground, and a corresponding programme of sampling was drawn up. Four months later laboratory analysis of the cores was available for inspection, allowing a detailed geotechnical report to be completed.
With this phase of the work over, a number of helicopter surveys were made to obtain laser scans as well as 'ortho-photos' of the route in a 1 500 m wide strip. The ortho-photos have a resolution of 250 mm by 250 mm, and the laser scans one laser point per m2. These data formed the planning basis for the tender documents and the survey of material quantities.
Alignment software
Bernard Ingenieure then drew up the detailed routes using specialist alignment drawing programs from Bentley such as InRail, while Obermeyer Planen + Beraten used its own Provi program. The software was used for 180 cross-sections, all of them generated automatically, achieving considerable time savings.
Total length of the railway designed by the German and Austrian consultants is 624 km. Construction will require about 67 million m3 of earthworks: 30·5 million m3 of embankments and 37·3 million m3 of cuttings. Major structures include five tunnels with a total length of 3·5 km, 151 rail bridges and 173 road bridges.
A total of 18 stations are envisaged for passenger traffic, and each has its own specific buildings and a forecourt. Freight will be handled at three locations where goods depots will be built. Planning for all these structures including a maintenance depot and storage locations is also being handled by the consultants.
In addition to the pure railway work, no less than 70 km of roads are needed, including main roads, local roads and unsurfaced tracks.
Documentation for the tender process was provided to the customer in the first half of 2008, and the start of tendering for the Relizane – Tiaret – Tissemsilt section is planned for the autumn. Target date for opening the new railway is 2015.
The scheme will considerably enhance the Algerian rail network and contribute to the opening up and development of the High Plateau region. Journey times between major towns and cities will be about half those required by private car today, and most significantly, high performance links will be provided to Algeria's coastal region.
The author would like to thank colleagues in Algerian Railways for their excellent co-operation, sometimes in difficult circumstances, which allowed the project to proceed.
<articlebox order="5" name="RGIN-0809-in focus-High -5.incx" page="0" top="599.527559055118" left="1280.31496062992" bottom="684.566929133858" right="1287.03457028847"><articlebox order="6" name="RGIN-0809-in focus-High -8.incx" page="0" top="663.307086614173" left="1217.84731947531" bottom="748.346456692913" right="1224.56692913386"><articlebox order="8" name="RGIN-0809-in focus-High-10.incx" page="0" top="222.767716535433" left="-661.417322834646" bottom="233.267716535433" right="-520.494938132733"></articlebox></articlebox></articlebox>