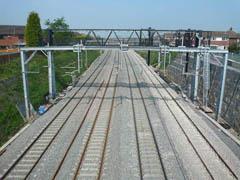 The project to build a high speed line between Buenos Aires and Córdoba is 'on stand-by' due to the current financial crisis according to Patrick Kron, Chairman & CEO of Alstom. 'When conditions return to normal, I hope the project can be realised and that is a decision for the authorities', he told Argentinian newspaper La Nación last month. Alstom leads the Veloxia consortium which on April 29 2008 signed a contract to build the new route (RG 6.08 p345).
Uruguay's state railway AFE is expected to begin work on a US$30m programme to renew 377 km of track next month, using rail supplied by Russia to meet an outstanding debt and sleepers imported from Paraguay. A parallel programme by infrastructure authority CFU to return 414 km to traffic is reported to have encountered further delay, with the two bids received of around US$60m to repair 200 km exceeding the government's budget.
At a meeting of the Organisation for Economic Co-operation & Development in Kampala, the East African Community was urged to form a transport authority to co-ordinate road and rail development; transport currently costs an average of 30% of the value of exports and imports. An infrastructure development fund was proposed, with member governments to harmonise policies, procedures and standards to encourage private-sector investment.
SBB and local politicians announced on January 16 an agreement to build a deep-level station below the current terminus in Luzern, approached by a tunnel under the Vierwaldstättersee. This is seen as easier than upgrading the partially single-track Luzern - Zug line. No timescale has been set for the project, which is expected to cost more than SFr1bn.