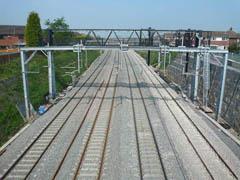 Azerbaijan has applied for US$450m from the World Bank to support a railway rehabilitation programme, expected to cost US$673m. US$55m is expected to come from EBRD. Rehabilitation of infrastructure and renewal of the rolling stock fleet form an integral part of the tri-national South Caucasus Railway Project agreed with Georgia and Turkey last year, along with construction of the Kars - Tbilisi rail link (RG 1.08 p50).
Colombia's coal producers' federation Fenalcarbon has signed an agreement with the transport ministry to fund infra-structure rehabilitation on the Atlántico main line to handle additional export coal traffic to Ciénaga, where a new deep-water port is envisaged. An initial budget of 7bn pesos has been allocated for track reconstruction in the regions of Cundinamarca, Boyacá and Santander.
Malaysian Transport Minister Chan Kong Choy has unveiled plans to bore a 3 300 m long tunnel at Berapit as part of the planned 12·5bn ringgit Ipoh - Padang Besar double-tracking project. The tunnel would be the longest in southeast Asia, he said, after a meeting with the Perak regional government on January 24.
Look for the government of Montenegro to announce proposals for the privatisation of the national rail network during 2008. ZCG has been included in a draft list of state-owned assets for disposal which was drawn up by the Privatisation Council in January.
Finance Minister Ng'andu Magande confirmed on February 14 that the Zambian government is looking to terminate the 20-year concession held by Railway Systems of Zambia, awarded in 2003. The government claims that RSZ has failed to run the network properly, or upgrade the infrastructure as required. However, Magande needs to raise US$40m to compensate concessionaire New Limpopo Bridge Investments.
Construction of a cut-off linking Sveti Ivan Zabno on the Zagreb - Koprivnica line with Gradec on the route to Bjelovar forms a key element in a railway infrastructure upgrading package unveiled by the new government of Croatia in January. Other projects include upgrading of the Koprivnica - Zagreb - Rijeka main line and the branch from Rijeka to Lupoglav in Istria.
RENFE signed an agreement on February 14 with Spanish organisations representing disabled people committing the railway to improve accessibility of stations and trains over the next three years. Up to €299m will be spent modifying rolling stock to make the entire fleet fully accessible by 2010, and help centres will be set up in 33 stations.