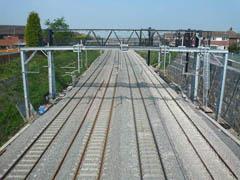 A Slovenian and Italian joint commission approved the final version of the construction plans for a 35·6 km direct link from Trieste to Divaca on April 15, and agreed to form a joint co-ordination body for the €2·4bn project (RG 10.08 p789).
Armenia and Iran have agreed to undertake a feasibility study into the construction of a 470 km cross-border railway giving Armenia access to Iranian ports (RG 1.08 p52).
On April 2 the Kenyan government invited bids to undertake a feasibility study and propose investment models for a standard-gauge railway running from a new Indian Ocean port at Lamu to Addis Abeba in Ethiopia, continuing via Lake Turkana to Juba in Sudan. A loan of US$3·5bn is being sought in Qatar to fund the port.
A study into the revival of the Panay Railway in the Philippines has suggested work could start next year. 'Based on the feasibility study, the Panay Railway system will be initially revived in Iloilo City', said Provincial Planning & Development Officer Rogest Esto. 'Then, after two to three years of operation, the expansion project will extend to Roxas City, towards Caticlan and Malay Aklan.'
Australian Transport & Energy Corridor Ltd and phosphate mining company Minemakers have signed a memorandum of understanding to study a 250 km open-access standard-gauge rail link connecting the Wonarah phosphate deposits to Tennant Creek on the Darwin – Alice Springs railway.
Saudi Arabia's public transport plan, prepared by Canadian group IBI, includes a 21bn riyals monorail project in Jeddah, as well as buses and trams. The monorail is to be implemented by the private sector in three phases.
The UAE's Ministry of Services approved legislation in March to establish the Union Railway Company to develop the planned national rail network. URC expects to award contracts in 2010-15 for around 1000 km of railway at an estimated cost of US$3bn; tenders to build the first sections of the 575 km line between Dubai and Abu Dhabi are to be invited next year.
On April 7 French Secretary of State for Transport Dominique Bussereau set up a committee to consider how TER services can be opened up to competition. Due to report in spring 2010, the committee includes representatives from regional transport organisations, operators, RFF, the government and the Conseil Economique Social et Environnemental.