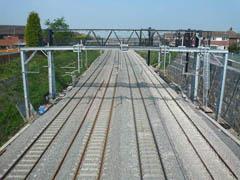 Romanian Transport Minister Ludovic Orban confirmed in October that the government expects to privatise the state-owned rail freight operator CFR Marfa during 2009. All of the shares will be offered for sale, either through an open tender or direct negotiation, with a target price of at least €1bn.
The government of Argentina has extended the bidding timetable for its project to create a 160 km/h passenger route between Buenos Aires and Mendoza (RG 9.08 p547), with technical bids to be submitted by November 6 and financial offers now due to be opened on December 16. Local media reports suggest that the four shortlisted consortia are having difficulty arranging finance to meet 50% of the 8·33bn pesos cost as stipulated by the government.
Addis Fortune reports that Ethiopian Railway Corp has launched a tender for a turnkey light rail project in Addis Abeba, from Ayat Village in the east to Jimma-Ber in the west, and from Shiromeda in the north to Kaliti in the south. 15 bidders have shown interest so far; their proposals should include integration of the existing railway line.
Plans for doubling the 59·9 km Montcada-Bifurcació - Vic route of RENFE's Barcelona suburban network to meet anticipated demand have been submitted for public consultation. The project is expected to cost €689·5m, including a section of new alignment in tunnel between Figaró and Tagamanent.
The Namibian cabinet has approved proposals by CIC Energy Corp and NamBot Investments to build a railway to carry export coal from CIC's planned mine at Mmamabula in Botswana to ports in Namibia. Designed to handle 10 million tonnes a year, the trans-Kalahari line could be operational by 2014, according to the promoters.
On October 13 Chief Minister Abdul Taib Mahmud announced plans to develop a 'rapid railway system' to serve the Sarawak Corridor of Renewable Energy linking the port of Bintulu with Mukah, Sibu, Sarikei and Kapit. Score is expected to attract investment of 300bn ringgit and create 1·5 million jobs. Taib hopes the first section of line can be built by 2015, with the whole 320 km corridor to be served by 2030.
Feasibility studies are to be completed this year for a 600 km railway between Yuxi and Mohan on the border of China and Laos, as part of a route from Kunming to Thailand. Construction is expected to get underway soon, with Yunnnan province meeting 30% of the 20bn yuan cost and the Ministry of Railways the remainder.