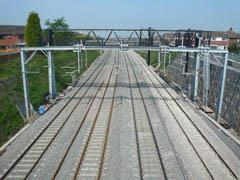 Plans to develop high speed passenger services in Ukraine have been put back from 2015 to 2020 in the light of the economic climate. In the meantime, UZ is segregating passenger and freight services to permit the wider introduction of 160 km/h running.
Russian Railways is developing a business plan to establish the Federal Passenger Co as a stand-alone long-distance passenger business. RZD is also accelerating the creation of separate commuter rail companies, which are intended to break even by 2011.
Plans being developed by the Spanish Ministry of Development for enhancements to the broad-gauge network in Asturias include new alignments between Lugo de Llanera and Serín, to cut Oviedo – Gijón journey times, and from Villabona to Avilés to avoid steep gradients which limit freight train loadings. Using the 49·7 km of new alignment between La Robla and Pola de Lena where construction is now over 70% complete, including the second bore of the 24·6 km Pajares base tunnel, the aim is to cut journey times between Madrid and Oviedo to 2 h 30 min.
Following talks with the International Monetary Fund, Romania's Transport Minister Radu Berceanu has revived plans to privatise the national rail freight business CFR Marfa by the end of 2010. Passenger operator CFR Calatori will be 'refocused' to increase revenue.
Uruguay's state railway AFE was due to start work at the end of last month on the first phase of a US$25m programme to undertake track renewals on the 422 km between Pintado and Rivera, where it is planned to operate freight trains with an axleload of 18 tonnes at up to 40 km/h. Railway investment agency CFU is considering a bid from the private sector to renovate a further 295 km between Chamberlain and Fray Bentos (RG 2.09 p28).
Work on a rail bridge across the River Paraná between Brazil and Paraguay could begin in the first half of 2010 following the signing of a declaration of intent by the presidents of both countries on July 25. This would enable the planned Foz do Iguaçu extension of Ferroeste (RG 4.09 p62) to reach Ciudad del Este in Paraguay, ultimately extending to Colonia María Auxiliadora, Encarnación and Pilar with connections to Argentina.
The US Trade & Development Agency has announced a $750 000 grant for the West African Economic & Monetary Union to support a feasibility study into a railway from Bamako in Mali to the border with Côte d'Ivoire, providing a link from landlocked Burkina Faso and Niger to the Port of Dakar in Sénégal.