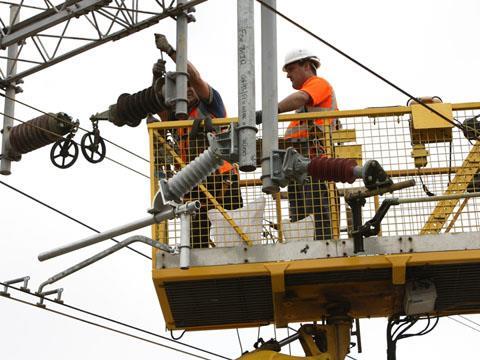 Japan's Railway Technical Research Institute is assessing the feasibility of detecting faults in level crossing barrier mechanisms by measuring electrical currents during the raising and lowering of faulty barriers and comparing to normal values. Two types of barrier are being used, with the aim of developing a means of identifying faults without the expense of installing sensors on every barrier.
The Indiana Rail Road has deployed 10East Corp's RailDOCS software to support its signalling maintenance activities. 'Basically, at any time, from anywhere, I can now see exactly what the status of the maintenance and compliance is for my signal department, with a few clicks of the mouse', said Brian Hall, the regional freight railway's Supervisor of Signals. 'Being able to keep an eye on our signal maintenance contractors is another large plus.'
Ensco has released version 3 of TrackIT, a web-based application providing access to infrastructure inspection and maintenance data in various formats. The most recent release enables staff to view videos of the route, with point-and-click access to images of infrastructure. It also offers inspection history overlays on a track chart for rapid comparisons of the latest track geometry, rail wear, rail flaws or automated inspection data.
The 28·4 km bores of the Guadarrama tunnel on the Madrid - Valladolid high speed line are fitted with 500 of Crowcon's Xgard detectors to monitor carbon monoxide, nitrous dioxide and oxygen levels. Methane is detected using Nimbus flameproof infra-red units. Data is processed by more than 70 Vortex rack-mounted controllers. As well as providing gas readings, alarms and fault information, these automatically trigger the ventilation and exhaust systems if dangerous levels of any of the gases are registered. Location information is transmitted to control rooms in Madrid and Segovia.