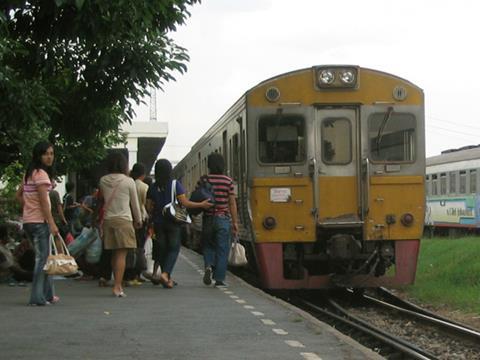 THAILAND: Construction of four standard-gauge dedicated passenger lines and the doubling of 3 000 route-km of metre-gauge lines is at the heart of a US$67·6bn infrastructure investment bill approved by cabinet ministers in Bangkok on March 20.
Rail infrastructure accounts for the lion's share of the planned capital outlay, with money also allocated to port construction, logistics developments and roads. Funding is included for a further 10 urban rail corridors in and around the capital, adding 410 km to Bangkok's metro and suburban rail network. Following approval by Prime Minister Yingluck Shinawatra and her cabinet, the bill will now go before parliament for final ratification. It includes clauses to ensure funding continues over the programme's planned seven-year delivery period to avoid the need for year-by-year budget re-approval, Shinawatra explained to reporters.
The plans call for construction in two stages of four 250 km/h standard gauge lines radiating from Bangkok. Initially reaching Hua Hin, Nakhon Ratchasima, Phitsanulok and Pattaya, then these would be extended to the northern city of Chiang Mai, the southeastern port of Rayong and the borders with Malaysia and Laos under the planned trans-ASEAN network backed by China. According to Transport Minister Chatchai Sitthipan, 'the projects, which will focus on electric trains and double tracks, will completely change Thailand and they will start next year'.
The government envisages that the programme could lead to a three-fold increase in train movements over State Railway of Thailand's conventional network, as part of a strategy to switch freight movements from road to rail, and support the creation of up to 500 000 jobs. Return on investment is expected over 50 years and the spending profile is designed to prevent national debt exceeding 50% of GDP, according to Finance Minister Kittirat Na-Ranong.