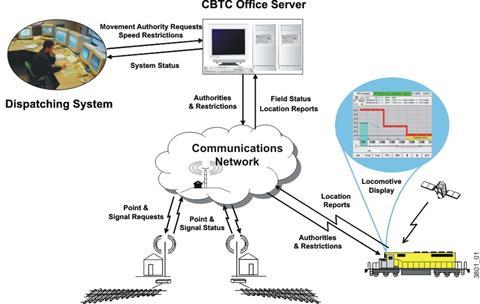 USA: Union Pacific, BNSF and Norfolk Southern announced on October 8 that they had agreed to work together on establishing interoperability standards for Positive Train Control. They were joined the following day by CSX, paving the way for a wider implementation of PTC across the North American rail network.
The Rail Safety Improvement Act passed by Congress on October 1 and signed into law by President Bush on October 16 requires the widespread introduction of PTC. Provisions inserted into Amtrak funding legislation following the September 12 collision near Los Angeles (RG 10.08 p755) require all Class I freight railways and passenger operators to develop 'a plan for implementing PTC by December 31 2015' on main line tracks used by passenger services, as well as any lines carrying hazardous materials designated toxic by inhalation.
Investigations into the Chatswood accident by the National Transportation Safety Board have confirmed that the Metrolink driver had sent a text message just 22 sec before the head-on collision, spurring FRA to issue an emergency directive on October 2 banning the use of mobile phones by train crew - although this had already been prohibited by local rules.
The Southern California Regional Rail Authority board had already taken steps to improve safety procedures, voting unanimously on September 26 for a programme that included putting a second driver in the cab of some trains. CEO David Solow was also directed to seek funding for the implementation of PTC.
RSIA authorises $250m in federal grants to support the development and installation of PTC and other technologies such as ECP braking. Describing the proposed schedule for PTC installation as 'aggressive', AAR President & CEO Edward Hamberger commented that 'the scope of the work remaining to be accomplished presents a challenge to both the supply industry and the railroads.'
According to TTCI Assistant Vice-President Alan Polivka, the Chatswood crash has given 'a new sense of urgency' to PTC. In a paper given at the first UIC conference on traffic management and train control systems in Istanbul on October 16-17, Polivka reported that work to move PTC from an overlay system to a stand-alone vital technology was underway at Pueblo, where 48 km of track is to be equipped for trials. The Vital PTC project is a joint development by TTCI and Lockheed Martin, sponsored by FRA.
Around 50 000 route-km will have to be equipped, which rules out using balises or lineside equipment for train location. Lockheed Martin is working on an advanced on-board satellite location system, which Project Manager Albert Gonzalez told the conference is achieving an accuracy of 3 m with 99% reliability.
One of the big challenges, according to Polivka, is developing an algorithm that can calculate a braking curve for mixed freight trains running at up to 100 km/h, which currently requires an offset margin of 535 m on a stopping distance of 2·5 km. One answer might lie with ECP braking (p846), which could help to reduce the degree of variability in braking performance.