SPAIN: Following a spate of air-conditioning failures which left it without any serviceable DMUs for a period during summer 2019, national narrow gauge operator RENFE Ancho Metrico — formerly FEVE — is seeking second-hand vehicles ahead of the busy summer period.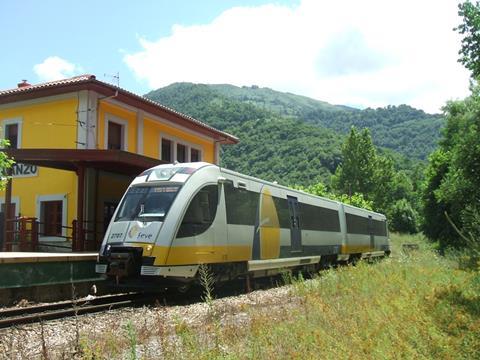 The operator would like to lease a minimum of three and a maximum of five DMUs to cover the period until new rolling stock can be delivered, which not likely before 2022-23 at the earliest. Tenders were called in early 2019, but there has been no further news on progress and contracts have not been signed. The procurement is being managed by the Ministry for Public Works.
The main route where extra trains are needed is the metre-gauge line from Trubia to Mieres and Collanzo, over which a largely hourly service runs between Baiña, Mieres and Collanzo, a distance of 34∙5 km. Cross-platform interchange is available at Ablaña with RENFE Cercanías services to and from Gijón and Oviedo. Two trains are required for the current timetable, with a third held in reserve.
Any potential vehicles should be suitable for use on lines with a platform height of 1 050 mm, with carbodies no wider than 2 550 mm. Height above top of rail should not exceed 3 795 mm, and the trains should be capable of climbing a gradient of 1∙6%.
According to RENFE, it will not be possible to undertake structural modifications to the leased trains, such as gauge alteration or the installation of batteries, because of the length of time needed for re-authorisation. The trains are needed by summer 2020.
A number of domestic options have already been explored, including transfer of DMUs from Mallorca following electrification of the island's network. However, most of these trains have been sold for use in Kenya. The diesel tram-trains ordered a decade ago for services around León are still stored at Stadler's Valencia works, and are the subject of a long-running legal dispute following the abandonment of the city's tram-train project. Elsewhere, FGV's Class 2500 DMUs are not expected to be released from service between Benidorm and Dénia for at least another year.