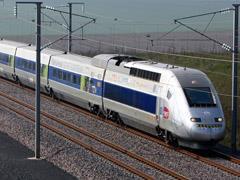 FRANCE: On November 3 Réseau Ferré de France signed a five-year performance contract with the government covering the condition, use and development of its 29 973 km network. It was signed by RFF President Hubert du Mesnil, Minister of Finance Eric Woerth, Secretary of State for Transport Dominique Bussereau and Jean-Louis Borloo, Minister for Ecology, Energy, Sustainable Development & Land Use.
RFF has agreed to 33 commitments which can be monitored using a series of performance indicators. Among the commitments are specific requirements to develop the freight business and to prepare for the liberalisation of international passenger services from January 1 2010.
One group of commitments covers RFF's financial performance. Specific targets to be achieved by 2011 include an annual turnover of €4bn, a net profit of €500m, and a net cash-flow of €2·7bn. The annual cost of the infrastructure is set at €6·2bn a year for the duration of the contract, and the proportion of costs to be funded by access fees will rise from 48% in 2008 to 60% in 2012. RFF is also required to manage its debt to minimise charges at a risk level to be set annually by the board of management.
RFF has further agree to undertake a major programme of resignalling that envisages replacing 1 400 signal boxes by 15 to 20 control centres by 2030. A programme of safety improvements includes the elimination of 50 level crossings, while 250 stations are to be brought into line with current accessibility requirements. Other objectives cover environmental issues and the launch of a property development policy.
In return, the government has agreed to continue investing in the network, allowing RFF to spend €13bn in 2008-13 on renewing 6 420 track-km and 2 420 sets of points. However, RFF is required to cut the average cost of renewals by 15% at constant prices.
On October 26 Haut-Rhin Sénateur Hubert Haenel published a report into the prospects for development of regional transport in France; this raises the question of introducing competition with a view to reducing the cost of operating regional services.