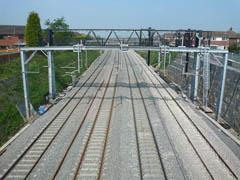 TO MARK the opening up of the domestic rail freight market on March 31, six French transport unions declared a 'day of action' on May 5 to protest against 'the European project to deregulate passenger transport by road and rail'.
Experience since the Trans-European Rail Freight Network was opened up to international competition on March 15 2003 suggests that private-sector innovation has the potential to inject much-needed life into the market, but a conference organised by EIM, ERFA, ERFCP and UIRR on March 29 concluded that 'European rail freight is not in a good shape'. And the prospects for passenger liberalisation seem much less clear.
A good example of the pitfalls ahead can be found on Britain's East Coast Main Line, where franchise operator GNER is embroiled in a spat with putative open-access challenger Grand Central. On March 23 the Office of Rail Regulation confirmed its earlier decision to award access rights to Grand Central for three trains a day each way between London, York and Sunderland. With capacity on the ECML at a premium, Hull Trains was given an extra London - Hull path, but GNER received nothing.
Given that GNER had committed to adding 12 trains each way per day between London and Leeds in its replacement franchise awarded last year, the company felt ORR's ruling was perverse. GNER has committed to pay £1·3bn in premia over the 10-year franchise, and believes that up to £5m a year in revenue is at risk from Grand Central, not least because of 'Orcats raiding' - exploiting the arcane rules of the ex-BR revenue apportionment software. Some of the losing bidders for the replacement InterCity East Coast franchise are understood to have included caveats against the risks of open-access competition in their business cases.
GNER Chief Executive Chris Garnett is particularly concerned that the two open-access operators will only pay marginal track access charges, whereas GNER must meet the full cost. This highlights an anomaly between UK legislation and the European model. Directive 2001/14 assumes that national governments will fund the basic cost of infrastructure, with operators meeting the marginal costs that their services impose. Under the Railways Act 1993, the UK government elected to fund the infrastructure via subsidies to the franchise operators in order to harness market forces.
With several franchisees paying premia rather than getting subsidy, the model is breaking down. In the 2005 white paper The Future of Rail, the government said it would be looking for open-access operators to meet 'a fair share' of their infrastructure costs.
Meanwhile, some train operators are still lobbying for a return to vertical integration. Last month Network Rail rejected an approach from Merseyside Passenger Transport Executive seeking control of the Merseyrail network; Merseyside PTE is the franchising authority for train operations, and saw benefits from bringing infrastructure and trains under common management. Notwithstanding this rebuff, train operator FirstGroup still remains keen to wrest control of the tracks from NR, possibly at ScotRail or First Great Western.