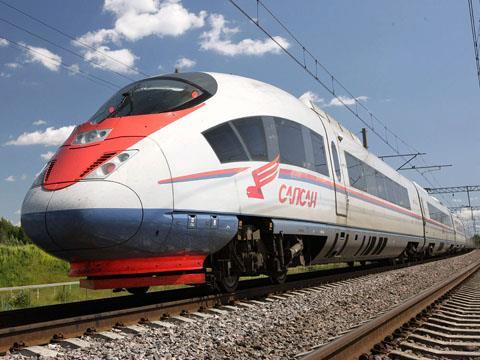 RUSSIA: Next month Russian Railways will unveil detailed proposals for a 'European standard' high speed line, RZD Vice-President Avtandil Gorgiladze told the EurasiaRail 2010 conference in Istanbul on February 10.
The Siemens Velaro RUS trains which have been operating Sapsan services between Moscow and St Petersburg since December were designed for 300 km/h running, but they are currently limited to 250 km/h by the use of existing infrastructure on the 645 km route.
Construction of a high speed line parallel to the conventional route would allow faster running and a reduction in journey times. RZD confirmed that the high speed line would be to 1 520 mm gauge.
Speaking in Tallinn on February 10, RZD Senior Vice-President Valentin Gapanovich said the possibility of using Alstom high speed trains on the Moscow - St Petersburg route is being explored.