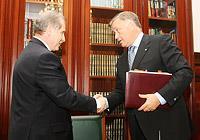 RUSSIA: On October 3 Russian Railways signed co-operation agreements with the Federal Agency for Rail Transport which will provide 45·6bn roubles of federal funding for two important infrastructure upgrading projects. Signed in Moscow by RZD President Vladimir Yakunin and the Head of Roszheldor Gennady Petrakov, the accord is the first to provide financing for major railway projects from the Russian Federation Investment Fund.
Roszheldor is providing 28bn roubles towards the reconstruction of the main line between St Petersburg and Buslovskaya for high speed running, which amounts to 35% of the total cost. RZD is contributing the remaining 65%, amounting to 51·7 billion roubles. Work is due to be completed by 2010, ready for the launch of Pendolino tilting trains between St Petersburg and Helsinki by the Karelian Trains joint venture of RZD and VR. Construction of a parallel line between Petajarvi and Kamennogorsk will accommodate freight traffic to and from the ports of Primorsk, Vysotsk and Vyborg on the Gulf of Finland, which is forecast to reach to 60 million tonnes a year.
The other major scheme is the upgrading of the line between Komsomol'sk-na-Amure and Sovetskaya Gavan in the Far Eastern region, where the federal funds will support reconstruction of the Oune – Vysokogornaya section and the boring of a new Kuznetsovsky tunnel. This is to be implemented through a public-private partnership, with RFIF providing 17·6 billion roubles and RZD a further 42·3 billion.
The upgrading is needed to support the development of new ore deposits and coalfields and the construction of new export terminals in the twin ports of Vanino and Sovetskaya Gavan. Freight traffic on this line is expected to increase from around 13 million tonnes a year to 60 million by 2020.
As well as ferries to and from Sakhalin, Vanino is also the railhead for the northern part of Khabarovsk region, Magadan and Kamchatka which are not yet connected to the RZD network. Construction of new lines into this region is envisaged by 2030 as part of RZD's strategic development programme approved by the Russian government earlier this year.