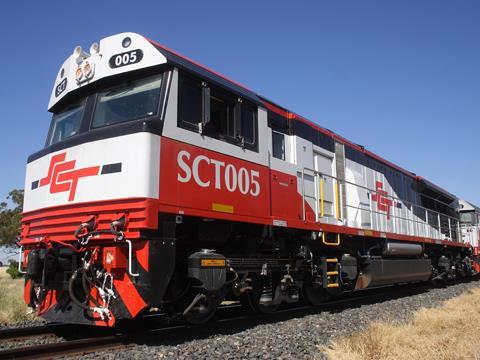 AUSTRALIA: Open access freight operator SCT Logistics confirmed on February 12 that it had started an experimental rail van service on the primary north-south interstate corridor linking Melbourne and Brisbane. The first trains began running on February 2.
SCT specialises in running block trains of general merchandise using conventional wagons rather than containers. The operator initially focused on east-west flows between Melbourne and Perth, but CEO Geoff Smith said it was 'no secret that we've had aspirations for some time to enter the north-south rail market', which is currently dominated by Pacific National and QR National. Pointing out that 'we have adopted a long term view on this corridor', he revealed that the company had acquired 135 ha of land several years ago to develop a rail freight terminal in the Brisbane area.
The opportunity to launch a trial service came with the requirement for Heinz Corp to relocate 'significant volumes of stock' into a new distribution facility at Northgate, Queensland. Heinz already uses SCT trains to move traffic on the east-west corridor, and the company's Frozen/Export Distribution Manager, Craig Kinzett said Heinz was keen to support the north-south route. 'It is clear that rail provides a greener form of transport on interstate routes compared to road, not to mention the social sensitivity associated with road trauma', he explained. Kinzett said the results from the first two weeks of operation had been 'encouraging' in terms of both price and quality of service.
Accepting that the north-south rail market 'has its challenges, in terms of contesting with a highly competitive and innovative road industry', Smith said the operator was 'looking to adopt an alternative approach by utilising our rail van concept as we do on the east-west rail corridor. Hopefully these trials will initiate the first step in achieving our goal of running regular services on this very important route.'