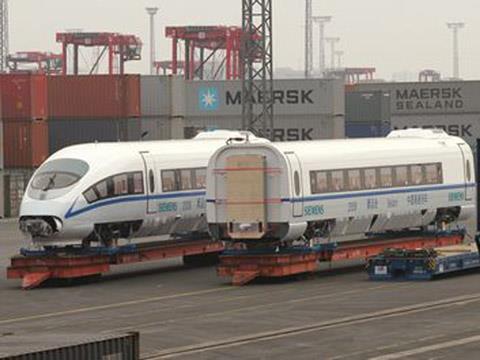 THE FIRST of the CRH3 high speed trains being supplied to Chinese Railways has left Bremerhaven in Germany onboard M/S Gjertrud Maersk for the six-week sea journey to Tianjin.
The 60 eight-car trains were ordered in November 2005 from a consortium of Siemens Transportation Systems and Tangshan Locomotive & Rolling Stock Works, part of the China Northern industrial group. The first three trainsets are being supplied from Siemens' Krefeld plant in Germany, with the remainder to be built in China using some German-made major components. Siemens will provide technical support during production, and the €1·3bn contact includes agreements on the transfer of technology to its partner company.
The CRH3 is a wide-bodied variant of the Velaro family of high speed inter-city trains which began with the ICE3 for Deutsche Bahn. The 25 m long coaches are 300 mm wider than those built for previous Velaro sets, with the extra space being used to provide 2+3 seating in second class and give around 600 seats in total. The distributed traction system powers half of the axles, giving a total rating of 8·8 MW. The top speed is 300 km/h, and regenerative braking will be used. A Chinese adaptation of ETCS will be used for train control.
Testing of the first trains will begin soon after delivery, and it is expected that five sets will be available to provide Beijing – Tianjin services during the 2008 Olympic Games.