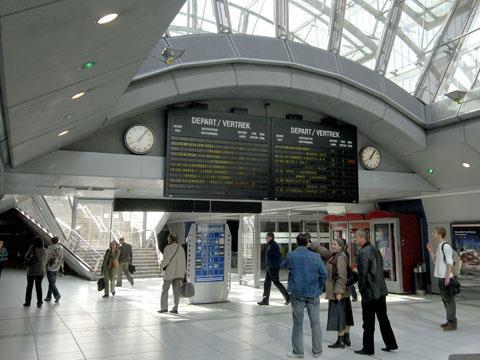 BELGIUM: SNCB confirmed on March 12 that its board had the previous week selected Siemens as its preferred bidder to supply up to 300 trainsets for the Brussels RER network. A firm contract for the first batch of 95 trains is to be placed before Easter, with options that could take the total value of the order to around €1·5bn. Deliveries are expected to begin in 2011.
Siemens will supply a version of its Desiro Main Line EMU, in the second order for its new family of modular trainsets. Last year Angel Trains ordered 16 three-car sets for lease to Deutsche Regionalbahn to operate the 15-year Mittelrheinbahn concession, with options for an additional 84 trains.
It is understood that the Siemens bid for the Brussels RER fleet was around 10% cheaper than its rivals. The other bidders were Alstom, with its Coradia Continental design, and Bombardier with a version of the AGC family, of which it has orders for more than 700 sets to operate in France.
The announcement was greeted with protests in Belgium, concerned about job losses at the only remaining domestic car builder – Bombardier's BN plant in Brugge. Bombardier is currently building Flexity Outlook trams for Brussels and assembling double-deck push-pull coaches for SNCB under contract to Alstom. The company insists that the Brugge plant is fully occupied at present, securing jobs for 850 staff until the end of 2009 and 100 until the last Brussels cars are delivered in 2013. However, Siemens and Bombardier are expected to discuss the option of subcontracting some work to Brugge, although the aluminium bodyshells for the Desiro Main Line units are likely to come from the Uerdingen plant.