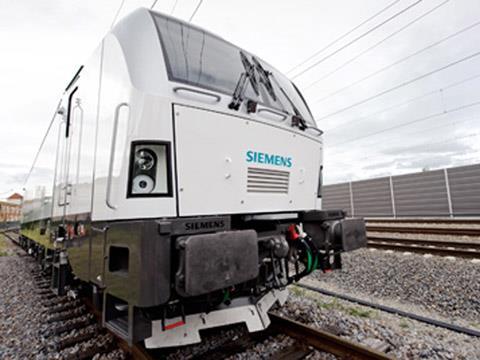 INTERNATIONAL: Fresh from its München assembly plant, a new Siemens multi-system electric locomotive targeted at European operators is being put through its paces at the Wegberg-Wildenrath test centre in Germany. Christened Vectron, the four-axle machine is destined to be one of Siemens' star exhibits at the InnoTrans 2010 event in September.
Changes in standards, legislation and acceptance procedures lie behind the German company's decision to develop another locomotive platform to follow the successful Eurosprinter and Eurorunner designs. The Vectron is also a response to changes in market conditions - customers are essentially being offered the possibility of tailoring motive power to their specific needs by selecting from a package of traction and train control options.
To be built initially in AC, DC and multi-system versions in medium and high-performance variants, with a diesel-electric sibling to follow at a later date if demand warrants, the Vectron family is intended to be very versatile. For example, a single-system locomotive can be refitted with a basic multi-system traction package that can be upgraded later if required. Similarly, a locomotive designed for 160 km/h can be uprated for 200 km/h without major rebuilding.
Siemens also promises short delivery times. A basic version of a locomotive type that is in high demand can be made available 'ex-works', it says.
The Vectron uses many components from other Siemens products. The drive for the 160 km/h version is derived from the ER20 Eurorunner, the train control package from the ES64F4 four-system Eurosprinter, traction control from the ES64U4 Taurus family, and the nose and cab front - designed to be easily replaced in the event of a collision - from the latest Eurosprinter locomotives. This means that development costs have been kept low, says Siemens, indicating that the Vectron will be offered with attractive pricing.
The equipment layout on the electric versions features a central gangway ensuring easy access between the two cabs. With the latest traction converters occupying less space than earlier equipment, more room is available for other components.
Whereas signalling and train control equipment has in the past often been squeezed in wherever space was available, the Vectron has locations within the body and on the bogies intended specifically to accommodate train control hardware. Thus the various antennae for ETCS, LZB, KVB and other national signalling and train protection systems are positioned in designated locations along the underframe and on the bogies. The bogies are to the proven HAB design and are fabricated in Graz, one modification being the use of active dampers.
Siemens is taking the opportunity with Vectron to launch a full locomotive provision and maintenance service called Rail Cover. Customers will be able to choose from a wide range of service and maintenance options, including a complete maintenance management package or simply the supply of replacement components. Rail Cover comes with a helpdesk, mobile staffing and a network of workshops where servicing or other work can be carried out.