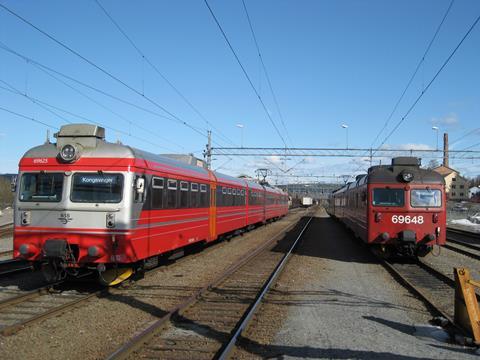 NORWAY: State-owned rolling stock leasing company Norske Tog has shortlisted six prequalified bidders to supply an initial 30 new commuter EMUs as part of a framework order that could total 200 trainsets.
The six prequalified bidders are: CAF, Alstom, Siemens Mobility, Stadler Rail, Hitachi Rail and Bombardier Transportation. Due for delivery by 2023, the initial batch of 30 trains will be used to replace ageing Class 69 EMUs on the route between Stabekk, Oslo and Ski.
Norske Tog says that it is looking for the new fleet to provide more capacity, comfort and onboard mobile internet coverage; maximum speed should be at least 160 km/h but 200 km/h would be preferred, it adds. It hopes the capacity of each train can increase from around 570 passengers on the Class 69 to around 700 or 800 in a mix of seating, standing and multi-functional space.
Other key factors in the procurement will include opportunities to reduce dwell times, rapid acceleration and braking characteristics, and price. Final offers are due in October and Norske Tog expects to sign the contract at the beginning of 2021.
'Norske Tog is very pleased with the interest from the supplier market. In the pre-qualification round, we have especially emphasised adequate experience from similar projects relevant to our acquisition, and sufficient financial strength for implementation. We are now proceeding with a relatively high number of suppliers, to get the best competition possible', said Norske Tog CEO Øystein Risan.