SLOVENIA: Strategically placed at the intersection of two key international corridors, Slovenian Railways is well placed to act as a hub linking east and west, but it must face up to emerging competition in the lucrative freight market. Chris Jackson asked SZ Director-General Tomaz Schara about the challenges and opportunities that lie ahead.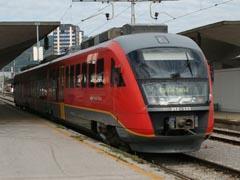 Slovenia may not be large, but it is well connected, according to the Director-General of Slovenian Railways Tomaz Schara. With trunk routes radiating from Ljubljana to Italy, Austria, Hungary and Croatia, SZ is keen to tap into the potential of the trans-European corridors that meet on its territory.
Slovenia has a population of 2 million in a country of just 20 250 km². In technical and operational terms, its railway has been influenced by the region's complex history, ever since the Austrians began building the Wien – Trieste Sudbahn through what is now Sloven­ian territory in the 1840s. And the political changes over the years have left SZ with a complex legacy including 10 border crossings.
Having emerged relatively unscathed from the break-up of Yugoslavia, Slovenia has enthusiastically embraced the European Union. It was the first of the 10 new member states to hold the EU's rotating Presidency. Reform of the rail sector to comply with the First Railway Package was completed in February 2007, with the establishment of the Rail Transport Agency as an independent licensing and safety authority, overseeing the allocation of path capacity and the setting of track access charges.
Rather than splitting the relatively small railway into a separate infrastructure manager and train operator, Slovenia elected to keep SZ as an integrated company, but with separate accounting for the three main business units - infrastructure, passenger and freight. There are separate businesses for traction supply and technical services, whilst other activities including traction and rolling stock maintenance have been transformed into wholly-owned subsidiary companies.
Schara does not believe a separate infrastructure manager is needed. Noting that the RTA is 'completely separated from SZ', he adds that 'there is also a separate regulatory body working under the Ministry of Transport. I believe that this assures non-discriminatory treatment for all railway undertakings interested in accessing the Slovenian network, both now and in the future.'
There are no plans to spin off the six subsidiaries either. 'All of them already earn part of their income from the market, and are not just dependent on orders from SZ. In our strategic plan for the period to 2015 we expect them to remain in the group.'
Financing challenge
Although SZ made an operating profit in 2007, with earnings before tax equivalent to around 10% of turnover (Table I), Schara describes the financial structure of the SZ group as 'unfavourable'. He explains that 'the capital value is reduced by losses in previous years'. In 2004 the state provided 'added capitalisation and refinancing loans', which 'have partly improved the capital structure. Yet the problem remains of the accumulated loss and the relatively high indebtedness.'
The debt has been reduced by the profits made in 2006, 2007 and 2008, 'but this is not enough.' Taking 2007 as an example, no less than 41% of the railway's income came from the state, in the form of grants for infrastructure maintenance and Public Service Obligation payments for passenger services. Ticket revenue accounted for just 10% of turnover, reflecting a political requirement to keep fares at an affordable level. By contrast, freight was the railway's biggest single earner, generating 42% of total turnover.
Infrastructure maintenance work accounts for around 23% of SZ staff, earning payments from the state totalling €93·6m in the 2008 business plan, or 24·7% of the railway's income.
Earlier this year Schara negotiated a complex refinancing package, which he says will reduce future interest payments. 'Our strategic plan envisages possible measures for financial unburdening, in the form of added capitalisation or relieving the railway of current debts. Gaining a positive cash flow in the next years is a precondition for financing future investment.'
After 15 years of steady growth, SZ expects both passenger and freight traffic to climb strongly over the next decade. Freight tonne-km are expected to increase by 76% from a projected 4·1 billion tonne-km in 2008 to 7·2 billion in 2020, with volumes rising 71% from 19·3 million to 32·9 million tonnes. Passenger traffic is expected to grow by 24% over the same period, from 16·3 to 20·2 million passengers and 807 to 998 million passenger-km.
SZ must fund its own investment in rolling stock and technology to support its operations, Schara explains. But he is adamant that 'the state as owner of the public railway infrastructure must assure the financing and implementation of the national development programme' (p789).
Between now and 2015, SZ expects to invest €447·7m in the freight business, starting with 12 multi-system electric locos on order for delivery in 2010. These will be Siemens Euro­sprinters, of which SZ already operates 20 three-system and four-system locos. Additional wagons are planned, particularly for the intermodal market, and funding has been allocated for 'ecological' improvements such as the retrofitting of composite brake blocks to reduce lineside noise.
Passenger investment over the same period will total €310·3m. New stock will include 14 EMUs and six DMUs, together with 30 loco-hauled coaches, whilst existing locos and coaches are to be refurbished. Ticketing systems are being updated, and SZ plans to develop internet sales and distribution. 'Of course, we always diligently follow world trends in the development of ticketing', comments Schara.
Koper is critical
Freight contributes more than 80% of SZ's commercial revenue. Schara says that 'as a relatively small railway, we are striving to achieve a stronger presence in the inter­national market. SZ Cargo operates as a regional integrator, focusing on the development of logistics services on Corridors V and X. Using our geographical location, developing direct contacts with decision-makers, and providing the necessary resources will allow us to build up the competitiveness of our services.'
Freight tonnage increased by 148% between 1992 and 2007, with tonne-km climbing by 153% or an average of 4% to 5% per annum. Around 90% is international, according to Freight Director Igor Hribar, split half-and-half between traffic to and from Slovenia and transit business. Austria is by far the busiest market, accounting for 38% of SZ Cargo's business compared with 10% to 15% each for Italy, Hungary and Croatia.
Top priority is to boost capacity to handle traffic through the Port of Koper, which is increasingly being used as a maritime gateway for the landlocked countries of central and eastern Eur­ope. SZ Cargo is currently handling 7·9 million tonnes a year to and from the port, which is up by 44% since 2000 and accounts for no less than 40% of its total freight traffic. Excluding ship-to-ship transfers, Hribar says rail has a 60% market share, which he believes is the best for any Euro­pean port, adding that among the major ports only at Antwerpen does rail have a market share greater than 25%.
Koper has a nominal capacity of 15 million tonnes/year, but port authority Luka Koper expects to handle 25 million tonnes by 2015. Hribar says the railway cannot match this rate of growth without significant investment, as the 50 trains/day to and from Koper have effectively filled the existing single-track branch to capacity.
SZ has already lost its monopoly on the port business, with open-access operator Adria Transport launching its first trains on August 18. Formed in January 2005, AT is a joint venture between Luka Koper and Austria's Graz Köflacher Bahn. It has bought three ES64U4B Taurus locos from Siemens, which are already cleared to operate in Slovenia, Austria and Germany; in future it hopes to use them on services to Hungary and Croatia as well. AT's first service is a daily train of kerosene tanks to and from Wien airport, running via Jesenice because the route via Maribor has not yet been cleared for 22·5 tonne axleloads.
Luka Koper is investing in its own wagons, which it says will be available for use by SZ as well as AT. During August it began taking delivery of 20 Laekks double-deck car carriers for the expanding car export business, with a further 20 due in October. Luka Koper has acquired 25 container wagons and has a further 40 on order.
Schara insists that 'the share of traffic to and from the Port of Koper is an important factor that influences our priorities, but it is just a part of our business. We are concentrating on expanding our international sales network, selecting terminals, and developing connections between them in order to achieve a dense and reliable network of direct trains, combined with additional logistics solutions for customers in selected industries'.
Intermodal and transit traffic
Hribar sees the transit market as his second main target, noting that rail traffic is growing but SZ's market share is falling. Slovenia has become a popular route for lorries travelling to and from Hungary, as its road tolls are lower that Austria's. Since Slovenia joined the EU, the number of transit lorries crossing the Hungarian border has soared from 250 000 a year to more than 1·5 million.
Intermodal growth has been spurred by the two-year Singer project funded from the EU's Marco Polo initiative (RG 3.07 p164). At present this is split more or less equally between containers and piggyback, embracing both swap bodies and rolling motorway traffic. SZ operates several block container trains from Koper to Ljubljana each day, with some extended to Celje and Maribor. Trains link the Ljubljana hub with Germany, Austria and Italy, and with the Balkans and Eastern Europe. Although the EU funding has now finished, the partners are continuing the operations on a commercial basis. A container train from Ljubljana to Istan­bul was launched last year, and this now runs three times a week.
Apart from the container shuttles, almost every train runs to or from the Zalog marshalling yard east of the capital. SZ Cargo currently serves 109 freight stations, which Hribar believes is far too many; he hopes the development of logistics terminals will help to consolidate the business. Another complication is that some of SZ's biggest freight customers are located well off the main line, such as the Renault car plant at Nove Mesto reached by a non-electrified single-track route.
With the longest domestic haul (Koper – Hodoš) being just 363 km, Hribar recognises that 'we need to expand our range of operations, and extend our traction across the borders to regional centres'. He points out that SZ Cargo locos already run into Italy, adding that SZ has applied for safety certificates in Austria and Germany so that its locos can run right through to München on intermodal services.
Hribar believes that there are several 'interesting markets' in the Balkans, including Romania, Bulgaria, Turkey, and Greece. However, he is concerned that the former Trans-Yugoslav corridor (now Corridor X) almost disappeared from the map. 'We lost a lot of traffic on this route during the wars of the 1990s. And now we have to contend with all the border crossings, customs delays and so on.' Although Corridor X has a lot more spare capacity than the rival Corridor IV via Budapest, 'the route through Hungary, Romania and Bulgaria is entirely within the EU.'
At the moment SZ Cargo's plan is to develop in co-operation with its neighbouring state railways. Given the aggressive expansion plans of some of its bigger neighbours and the emergence of open-access competition, it will be interesting to see how long the freight business can remain independent in a fast-changing market.
Passenger Service Obligation
In contrast to the freight sector, SZ's passenger business is predominantly domestic. Just 5% of the traffic was handled by international trains, although the longer journeys and higher fares generated 15% of passenger-km and 21% of revenue.
Despite the construction of many new roads, SZ passenger traffic has been growing steadily since 1992; in 2000-07 the number of journeys rose at an average of 2·2% per annum, with passenger-km rising at 3·4%. By comparison, bus travel has dropped at 9·4% a year since 1996 whilst the number of cars per 1 000 inhabitants increased by 68% over the same time.
Schara explains that 'the public service obligations are defined in a yearly contract between SZ and RTA on behalf of the state. This sets targets for passenger-km and service frequencies, along with standards for the quality of service (safety, comfort, speed, capacity), and punctuality, as well as passenger satisfaction.' But legislation limits the amount of support, and he notes that 'for many years, the compensation has been insufficient to cover the shortfall in revenues.'
Discussions are underway to amend the rules for domestic and cross-border regional services, in line with European Regulation 1370/2007. Schara expects this to bring some fundamental changes, including multi-annual PSO contracts 'which will enable easier realisation of strategic passenger transport development plans'.
SZ has a 30% market share of domestic public transport in terms of passenger-km, and no less than 85% of its passengers use season tickets. In 2007 around 40% of all passengers were young people compared to 30% for adults and 17% railway staff. A major problem is Slovenia's relatively low population density of 94 inhabitants per km2; within this almost 25% of the population lives in and around Ljubljana. Other major centres include the university cities of Maribor and Koper plus Celje and Bled. Inter-city travel is still relatively limited.
SZ is developing its suburban oper­ations, using its fleet of Siemens Desiro EMUs. Many peak-hour trains are overcrowded, although the fleet is under-employed at other times. A high priority is to develop an integrated public transport network, particularly around Ljubljana, with common timetables, ticketing and passenger information systems.
International expansion
Ljubljana is linked by EuroCity trains to major cities in Austria, Germany, Croatia, the Czech Republic and Italy. Head of International Passenger Transport Ana Tusar says the biggest international flows at present are to and from Croatia and Austria.
However, the Italian market is a problem. SZ's three ICS tilting trainsets used to operate a regular service between Ljubljana, Trieste and Venezia, but earlier this year they were stopped from running into Italy as they do not have RFI's automatic train protection equipment.
Tusar believes that the railway is well placed to tap into Slovenia's growing tourist industry, with a range of 'commercially-attractive products'.
Schara agrees. 'We are working towards a long-term vision of becoming the main operator of public passenger transport in Slovenia and the surrounding regions. We will achieve this by connecting with other companies, by introducing attractive products to the market, and by expanding in the segment of tourism and other profitable activities.'
Looking ahead to the liberalisation of international passenger services in the EU from January 1 2010, Schara expects 'to see offers from different operators for traffic to and from Slovenia and in transit through Slovenia.' But he points out that 'we already have other passenger operators on Slovenian tracks, in the form of agency transport, albeit in small amounts and with traction provided by SZ'.
Schara says SZ is 'preparing for liberalisation' in a number of areas, including the introduction of cross-border regional services to neighbouring countries such as Austria. He says the priority is 'to renew some stations to improve access for passengers with reduced mobility, and install advanced security and information systems. We have to make our stations more user-friendly; they should not be just an interchange point between different modes, but should include shopping centres, information centres, and so on'. To this end, Ljubljana station is to be redeveloped 'as a modern and attractive passenger centre, at the intersection of passenger flows between western and southeastern Europe'.
Cost-effective operation
In many ways, SZ is at a crossroads commercially as well as geographically. Although organisational and management reforms have been completed in line with EU directives, train operations are still very traditional. With the emergence of on-rail competition, the railway will need to develop its international presence and harness operating efficiencies by addressing issues such as rolling stock and staff productivity.
Moving from wagonload to block train operations should help to improve freight competitiveness, whilst there would be scope to operate more intensive passenger services with the existing fleet. Secondary lines have manual signalling and staff at every station, so low-cost operating methods also offer scope for savings.
Schara is more cautious. 'Many lines were abolished in the 1960s, with the removal of more than 1 500 km of track. In the 1990s, many stations were examined, and unnecessary tracks were abolished, with the agreement of the government. So we do not see any additional possibility for reducing the costs of track maintenance and renewals by further rationalisation of redundant infrastructure.'
Top priorities for infrastructure investment, he believes, should be the upgrading of the two pan-European corridors for 22·5 tonne axleloads, double-tracking and electrification of all main lines and the introduction of ERTMS on the trunk routes.
'We are striving to achieve a stronger presence in the international market'
Tomaz Schara Managing Director, Slovenian Railways