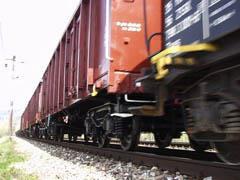 FRANCE: Keen to implement strat­egies arising from its Grenelle de l'Environnement, the French government unveiled on September 16 a €7bn package of measures to reverse the decline in rail's share of the freight market over the next decade. At present road carries 86%, a figure that the government aims to cut to 75% by 2022. There will be 2 million fewer lorry trips a year, with CO2 emissions cut by 2 million tonnes a year.
Eight areas for action are covered, the first being to develop an autoroute ferroviaire network. Initially, services on the existing Luxembourg – Perpignan route will be stepped up from six to 12 a week each way. A further increase to give departures every 4 h is planned in 2010, with the aim of offering 10 daily return workings by 2015. During 2010 work to enhance the loading gauge on the Aiton – Orbassano route to permit standard lorries to be carried through the Mont Cenis tunnel should be completed, the ultimate target being to operate 10 return trips a day from Lyon to Torino. Tenders to operate this longer route will be called by the end of this year.
A third autoroute ferroviaire with four or five services a day is due to be launched in 2011 between the Aquitaine region and Nord-Pas-de-Calais; an operator is due to be named soon following consultation that began last May. A fourth route between Lyon and the Channel Tunnel is also envisaged.
The second main target is to double intermodal traffic by 2020 thanks to a 30% rise in incentive grants to switch from road to rail, an increase in the number of intermodal services between Lille and Perpignan and the launch in 2011 of 1000 m long trains in the Paris – Marseille corridor.
The third action is to stimulate local freight using short line operators — three are due to start up before the end of the year. Others are expected to start running in Midi-Pyrénées and Languedoc-Rousillon during 2010. Lightly-used routes with potential for development will qualify for rehabilitation funds worth €8m a year.
Fourth, the government will facilitate the launch of high speed freight trains, with a consortium involving SNCF to be set up by the end of 2009. Rolling stock worth €300m is to be ordered during 2010, and operations will start by 2015 or earlier if possible. The government will provide €170m towards the cost of terminals at Roissy-Charles-de-Gaulle and Lyon Saint-Exupéry airports.
Another major objective is to create a priority freight network in the next 15 years. This will be fully electrified and equipped for bidirectional working. A proposal in the Grenelle for diesel trains to be banned from the electrified network from 2015 would require electrification of infill routes such as Amiens – Châlons en Champagne and Saint-Dizier – Culmont-Chalindrey.
Around €45bn will be allocated to eliminate bottlenecks. Tenders for the 71 km Nîmes – Montpellier bypass costing €16bn are to be called this year with the aim of opening the line by 2016. Approval will be sought imminently for studies into the Lyon freight bypass, which is to open in stages in 2019-20.
To increase the volume of port traffic moving by rail, local operators are to be set up in La Rochelle and Le Havre, where work on a multimodal terminal will start in 2010; in the same year short line port operators will be set up at all major sea ports.
The final element of the strategy is to improve service standards for shippers, with RFF setting up a customer service facility. Contracts specifying quality levels are to be agreed in 2010 between RFF and its customers with reliability guarantees set for autoroutes ferroviaires.