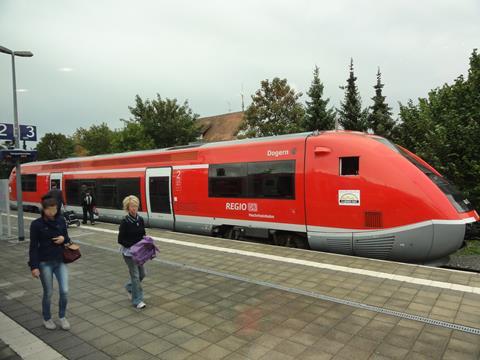 EUROPE: Officials from the Land of Baden-Württemberg, the canton of Basel and DB Netz gathered in Laufenburg on September 30 to agree a package of enhancements for the Hochrheinbahn route which links Basel with Singen via Schaffhausen. The railway straddles the border between Germany and Switzerland, but it is managed by DB Netz.
The principal element of the agreement is electrification at 15 kV 16·7 Hz of the 75 km between Basel Bad and Erzingen. Other improvements include construction of passing loops at Lauchringen and Tiengen and planning for additional stations at Rheinfelden (Baden), Bad Säckingen and between Waldshut and Tiengen.
Waldshut station is to be remodelled to enable trains to reach the Swiss city of Koblenz without reversing. Platforms at all the stations on the route are to be lengthened and rebuilt with a uniform height of 550 mm. Two tunnels at Rappenstein (337 m) and Aarberg (352 m) are to be refurbished.
The work will enable diesel traction to be eliminated from the route, and a 30 min interval passenger service introduced. Revised fares are to be introduced, integrated with both Swiss and German ticketing arrangements.
Planning of the modernisation work began in September 2017 and the overall budget is €290m. It is being co-funded by the German federal government (60%); the Land of Baden-Württemberg (€6·7m); the municipalities of Waldshut (€4·4m) and Lörrach (€3·4m), and the canton of Basel (€2·3m). Some of the station refurbishment work will be funded locally by the towns concerned. The Swiss government is also making a contribution from its SFr200m cross-border rail enhancements fund. DB Netz expects to seek final planning approval for work to start by the end of next year, with completion of the main packages expected around two years later.
Martin Kistler, Leader of Waldshut Landkreis, said during the signing ceremony that the current service along the route 'is not good for customers', and he urged the introduction of 'faster and more reliable' trains.
'Our goal is to finish the modernisation before 2027, and probably in 2025', added Uwe Lahl, deputy transport minister for Baden-Württemberg. He described the upgrading as a 'crucial project for cross border traffic between Germany and Switzerland'.