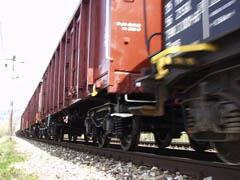 EUROPE: 'We have come to the conclusion that the situation is in need of review', confirmed Jonathan Scheele, Director of Transport Logistics & Trans-European Networks at the European Commission's Directorate-General for Energy & Transport. He was participating in a panel debate on European corridors at the fourth Eurailfreight conference organised by CER in Brussels on January 20.
Pointing out that it was 15 years since the TEN-T strategy had been drawn up, and that liberalisation of the rail market had come a long way since then, Scheele remarked that 'we didn't have climate change, or EU enlargement, bringing much more diverse infrastructure requirements'. And 'we have learned a lot of lessons about implementing projects'.
Former Transport Commissioner Karel van Miert, who is now the EC's Co-ordinator for the Berlin - Verona corridor, pointed out that TEN-T was largely focused on 'big ticket' prestige projects, without considering incremental works needed elsewhere along a corridor. Citing the example of the Brenner base tunnel, he reported that arriving at a co-ordinated planning policy between national and regional governments in Germany, Austria and Italy was proving a challenge.
DG TREN is due to publish a green paper this month, which Scheele says will 'set out a lot of questions about freight transport policy going forward'. Consultation is due to run until the end of April. He expects the new approach to focus more on 'the needs of the users', including an emphasis on 'co-modality', interchanges and terminals. 'We need to move beyond lines on a map to developing a system', he emphasised.
Pointing out that the 1996 TEN-T strategy was based purely on consideration of projects put forward by member states, which may have been influenced by vested interests, Scheele insisted that DG TREN wanted to take a more holistic view in future. 'What we are looking for in the green paper is how do we move from an infrastructure approach to a genuine logistics network'. Agreeing that 'terminals are absolutely critical', he accepted that 'we need to be more flexible to deal with incremental projects.'
Revised TEN-T guidelines are to be rolled out in 2010, centred around a 'green corridor' approach that will also address ERTMS deployment. Scheele believes that this will help railway operators, infrastructure managers and governments 'make a better case' during 2011-12 for investment funding in the next EU budget which starts from 2013.
Cost-effective approaches to adding capacity, incremental enhancements and mega-projects will be among the topics for debate at the Railway Gazette International conference on Growth & the Capacity Challenge taking place in London on March 10-11.