EUROPE: Designed to meet the crashworthiness requirements of EN 15227, Bombardier's Talent 2 is the latest entrant in the competitive European market for regional EMUs. Dr Harry Hondius reports.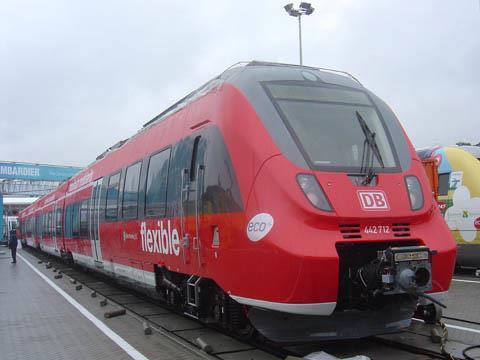 Formally unveiled at the InnoTrans 2008 fair in Berlin last September, Bombardier's Talent 2 EMU is currently undergoing commissioning and acceptance trials before entering service with DB Regio in Germany.
Talent 2 is the latest in a series of new regional and suburban trainsets designed to meet the crashworthiness requirements of EN 15227. As such, it forms part of the second generation of EMUs to be designed by the manufacturers rather than the railway operators themselves. Talent 2's main competitors are Alstom's Coradia Continental, Siemens' Desiro ML and Stadler's Flirt designs.
Talent 2 has a strong heritage. The Talent 1 DMU was developed by Waggonfabrik Talbot in Aachen, just before Bombardier purchased the company in 1995. Unveiled in the spring of 1996, the regional diesel train was a completely new and striking design. Talent 1 proved very successful, with 223 diesel-mechanical and 63 diesel-electric sets built. In addition, 198 'Elektro Talent' EMUs were built with Elin in Austria, of which 20 were for use in Hungary, making 484 trains in all.
Bombardier's NINA EMUs for BLS have many similarities with Talent 1, including the Flex-Compact bogies, albeit with electrical equipment from Alstom; this family comprises 37 RABe525 S-Bahn sets and 13 RABe535 regional sets for the Lötschberg route. In Scandinavia Bombardier has delivered 90 Regina wide-bodied EMUs to Swedish operators. The company's biggest success came in France, where 698 AGCs have been ordered along with 172 Spacium wide-bodied suburban EMUs for the Paris region. These two designs also use bogies from the Flex-Compact (formerly Wegmann) platform.
So why, with so many trains in production, has Bombardier developed another new design? Changing demands from operators and leasing companies and the new crashworthiness norms are the main reasons, along with the desire for greater flexibility to meet differing customer requirements over the lifetime of the train, especially regarding the number of doors and the entrance height.
Crashworthiness norms
From August 1 2008 any new rolling stock designs in the European Union must meet the crashworthiness requirements of EN 15277. These demand a survival space for the driver, and the train must remain structurally intact, safeguarding the passengers, in three specific scenarios:
in a collision between two similar trains at 36 km/h,
in a collision with a 90-tonne freight wagon at 36 km/h,
in a collision on a level crossing with a 15 tonne lorry at 110 km/h.
Although the rules came into force in August there is provision for local safety authorities to allow a four-year transition period. So far the Dutch have taken the lead in demanding full application, with the latest Sprinter EMUs (RG 3.08 p180), 82 out of 437 GTW trainsets and the Protos EMUs all compliant. Alstom's Coradia Nordic was also built to meet the crashworthiness criteria from its inception, but so far the Coradia Continental sets for DB do not (RG 5.08 p321). Whilst the ET 422 S-Bahn units are compliant, DB placed framework contracts in July 2008 for 120 Coradia Lint, 60 RegioShuttle and 60 Desiro Classic DMUs, which do not meet EN 15227; these will be ordered as and when DB Regio AG wins regional operating concessions.
Bombardier's AGC and Spacium designs, as well as the Desiro ML from Siemens do meet the EN 15227 requirements. The NINA does not, nor do the 614 Flirts from Stadler, although a crashworthy Flirt variant has been prepared for future orders.
Among the second-generation competitors, Alstom has won orders for 150 Coradia Lirex Nordic and 141 Coradia Lirex Continental units, Siemens is supplying 17 Desiro Main Line EMUs in Germany and 305 for Belgium, and Stadler has 186 German orders out of 614 Flirts in total.
Framework contract
In February 2007 DB AG signed a framework agreement with Bombardier for Talent 2, providing for up to 321 trainsets to be supplied between May 2009 and December 31 2014. These will be converted to firm orders as and when DB wins regional or S-Bahn concessions which require new electric trainsets.
So far, firm orders have been placed for 76 sets:
S-Bahn Nürnberg: 42 four-car sets of Class ET 442;
Moselbahn, Koblenz – Trier/Perl: eight four-car and five two-car units;
Cottbus – Leipzig: three four-car and three two-car units;
Rhein-Sieg regional express, Aachen – Köln – Siegen: three three-car, 10 four-car and two five-car units.
This last order was valued at €60m, which equates to just €19 000/m²; this is a very competitive price indeed.
All-steel bodyshell
Developed in Hennigsdorf, Talent 2 is planned as a platform offering trainsets of two to six cars, varying from 40 m to 104 m in length (Fig 2). It is an all-steel welded car, with the bodies fabricated at Ceska Lipa. The principal concept behind Talent 2 is to offer the greatest operational flexibility terms of seating arrangements, toilets and door positions. The window panels have the same dimensions as the door panels, so that doorways can be added, or even removed, at a later date.
The end cars have entrances at 800 mm above rail. The floor height in the intermediate cars can vary depending on customer requirements. The option selected for the Nürnberg units was shown at InnoTrans: a small ramp links the floor at 695 mm above rail with the entrances at 773 mm. A Bode sliding step at 573 mm (Fig 3 left) serves 550 mm high platforms. An alternative arrangement (Fig 3 right) would have a ramp down from the 695 mm floor to a doorway at 598 mm, still only 50 mm higher than a 550 mm platform and a sliding step at 360 mm for lower platform heights.
To meet EN 15227, the end cars have hydraulic energy absorbers at two levels, in addition to the energy absorption qualities of the automatic Voith Scharfenberg coupler. A steel cage around the cab provides the survival space for the driver, enclosed by a GRP nose from Stratiform. Reinforcement of the articulations prevents damaging energy levels being transmitted to the inner coaches. The Hübner corrugated gangways provide an inter-car walkway 732 mm wide.
Talent 2 also runs on bogies from the Flex-Compact family like those used on AGC or Spacium which have H-frames with a degree of in-built flexibility. The primary suspension and axle guidance acts as a linkage to the axle boxes, connected to the frame via rubber bushes on the inner side and via steel primary springs with a vertical shock absorber on the outer side. Secondary suspension is by air springs, with rubber/metallic auxiliary springs on each side complemented by a vertical shock absorber, and two torsion anti-roll stabilizers, two yaw dampers and one horizontal damper. A central connection transmits traction and braking forces. Knorr electro-pneumatic wheel brakes act on 10 wheels, and spring-loaded parking brakes are applied to 12 wheels. One of the end bogies is equipped with electromagnetic track brakes and both end bogies have Delemon flange lubrication equipment.
A single pantograph feeds the electrical equipment which was designed at Västerås. Skoda asynchronous four-pole forced ventilated motors drive the two end bogies and the central articulation bogie. They have a maximum power of 505 kW and a continuous rating of 380 kW, with a maximum speed of 5 614 rev/min. The motors are fully suspended, and drive through a toothed coupling and 1:5·05 single-reduction Watteeuw gears which are suspended from the frame on one side and rest on the axle. Two-stage gearing is provided for the powered articulation bogie because of the limited space.
All of the equipment is mounted on the roof with the exception of the two transformers and the 110 V, 105 Ah batteries, which are slung under the floors of the end cars. The two transformers deliver 6 x 428 kVA. Each motored bogie has its own inverter, of which two include auxiliary inverters. A separate 500 W inverter feeds the 24 V DC circuit.
To meet DB Regio's design requirements, the trains are fitted with Kiel's Match type seats. The single-glazed windows come from Securit in Poland. Bode has also supplied the electrically operating sliding-plug doors. Because of EBA's latest safety requirements, the closing of the doors is monitored by optical sensors in two dimensions and the doors are fitted with highly-sensitive rubber edging strips incorporating Mayser electronic sensors. The fully-accessible toilet compartment has a shell from Bahrain and fittings from Denmark.
Air-conditioning is provided on all vehicles. Each unit is rated at 2 900 m³/h when air is being recirculated, or 1 900 m³/h with fresh air. The end cars have provision for 31·75 kW of heating, compared with 33·4 kW for the intermediate vehicles, cooling rate for all cars is 27 kW. Warm air is fed into the saloons from below, cool air from the roof. The driving cabs are equipped with separate air-conditioning units, rated at 5·4 kW heating and 4·5 kW cooling. These can recirculate at 550 m³/h or add fresh air at 400m³/h. Overall train design is by Michel Sohn at Hennigsdorf.
A versatile family
Although we have not yet had the opportunity to sample the riding qualities of Talent 2, Bombardier seems to have made a serious effort to develop a largely-standardised steel-bodied trainset with the flexibility to deliver a variety of functional interior layouts without incurring heavy engineering costs. As well as the established Flex-Compact bogies, Talent 2 uses several elements that are well-proven in other DB series. The cab layout, for example, is identical to that of the Class ET 422 units.
In the private operator market, the closest competitor to Talent 2 is the Flirt, which does not yet meet EN 15227, is 1·8 m shorter, and carries 51 fewer passengers. The Flirt has 5·2% less power, and only four driven axles, but is 8·6% lighter.