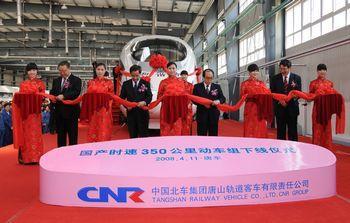 CHINA: On April 11 Tangshan Locomotive & Rolling Stock Works rolled out the first CRH3 high speed train to be produced in China. The manufacturer said at the launch that the CRH3 is the first Chinese-built train to be designed for a top speed of 350 km/h, and marks the domestic rolling stock industry's progress from the production of 200 km/h EMUs to the manufacture of world-standard high speed trains.
Part of the China Northern group, Tangshan is supplying the Ministry of Railways with 60 eight-car CRH3 trainsets in partnership with Siemens under a €1·3bn contract signed in November 2005. The first three trains were built in Germany and shipped to China last December. The remainder are to be built in China, with Siemens supplying some components under a technology transfer deal.
The welded aluminium bodyshell of the CRH3 is around 300 mm wider than on previous Velaro designs, permitting 3+2 seating in second class. The total capacity is 557 passengers, including one first class car and first class areas behind the cabs. The seat reservation system and catering facilities have been adapted to meet local requirements.
The first five trainsets are expected to enter service on the Beijing – Tianjin high speed line in time for this summer's Olympic Games, and all 60 will be delivered by the end of 2009.