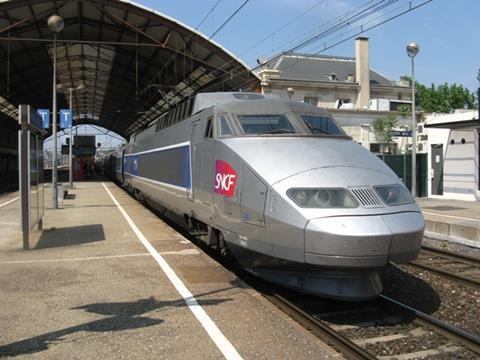 FRANCE: SNCF has selected Compin Group to supply interior fittings for the refurbishment of its original fleet of TGV Sud Est trainsets. Under a contract signed on October 6, the interiors specialist will supply complete kits for 60 trains, with options for a further 47. Each trainset has two power cars and eight trailer vehicles.
Refurbishment will be undertaken at SNCF's Hellemmes and Romilly workshops, with the initial batch to be rebuilt between 2011 and 2015. Compin will supply up to 42 000 seats and 25 000 m2 of carpeting, with the total value of the deal put at between €80m and €100m. Initial deliveries are planned for April 2011.
The interior refurbishment will draw on Compin's experience with the TGV POS trainsets for LGV Est, where the company worked with Christian Lacroix and MBD Design to develop new interiors for the remodelled TGV Réseau trailer cars. For the TGV Sud Est order, Compin Group has formed a 'targeted partnership' with RCP Design to create 'a style that fits the TGV brand image'. Around 80% of the components will be designed and manufactured by Compin's Interiors and Seats business units.
In its specifications for the tender invitation last year, SNCF emphasised the need for sustainable development. Compin plans to re-use many components from the current interiors, through the development of a specific dismantling and recycling process, and will switch to LEDs for interior lighting. Cost control will include close management of the supply logistics and assembly time, and there will be a further focus on optimising the new interiors for easy maintenance and cleaning when the trains are back in service.