REFURBISHMENT: With a dramatic laser show and wreaths of smoke, the first refurbished Thalys trainset was presented to a select group of VIPs and invited guests at the Forest TGV depot in Brussels last month.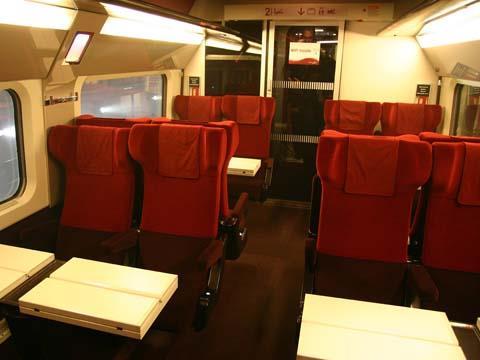 Remodelled at a cost of almost €1·8m, the unit is a prototype for the planned refit of the whole 26-strong fleet to be completed over the next two years. The work is being done by SNCF's Technicentre Hellemmes near Lille, which is also fitting ERTMS on-board equipment so that the trains will be able to operate over new sections of high speed line in both Belgium and the Netherlands.
Enthoven Associates Design Consultants of Belgium and Avant Première Design Graphique of France were appointed to assist with redesigning the livery and the interior saloon areas. The general atmosphere on board the trains is more contemporary, with a more 'modern' colour palette being adopted.
The exterior livery retains the red and grey colours identifying the Thalys brand, but a chrome line now runs along the full length of the trainset, complemented by a large logo at each end of the set.
Perhaps the most visible aspect of the refurbishment, and the most apparent for the passengers, is the interior. New ergonomically-designed seats have been installed throughout, requiring the replacement of 9 800 seats across the whole fleet. The same number of power sockets are being fitted, providing power for laptops and mobile phones at every seat in both Confort 1 and Confort 2. On-board wi-fi access is being provided in every vehicle, and more than 60 000 people have already used this facility since it was rolled out across the fleet in the autumn. The toilet compartments have been remodelled, and each trainset now provides two spaces for wheelchair passengers instead of one.
The bar coaches have also been updated, with three different colour schemes spread across the 26 sets. Eight bars have a light pink colour, 10 a Bordeaux red environment and the remaining eight a dark aubergine colour.
Thalys also used the occasion to introduce a new range of staff uniforms, designed by a young German designer, Eva Gronbach, and manufactured in France by Armor Lux. Around 1 000 new sets of uniform have been issued to the staff, as part of the 'New Thalys' rebranding programme. This has required the purchase of more than 35 000 m of cloth and 98 000 buttons.
With the high speed lines between Antwerpen and Schiphol and from Liège to Aachen expected to open during 2009, Thalys will be able to reach both Amsterdam and Köln in less than 3 h 15 min from Paris. 'Thalys is ready to win Northern Europe', insisted CEO Olivier Poitrenaud.
Who does what
Seats: Clerprem, Italy
Passenger saloon fittings: Saira, Italy
Bar fittings: Bonansea, Italy
Toilets: Stratiforme, France
Carpets: MRP, Belgium
Synthetic flooring (bar and vestibules): Mondo, Italy