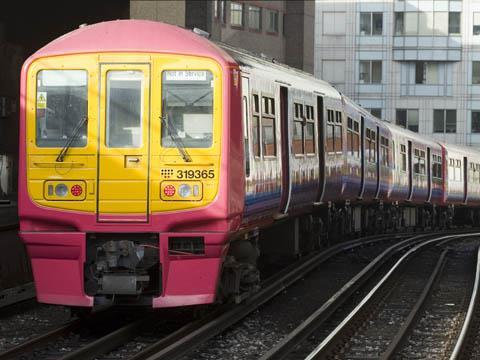 UK: 'We are about to break cover', commented Andrew Mitchell following a presentation to the Institution of Engineering & Technology in London on February 10. As Network Rail's Major Programme Director for the Thameslink Programme, he is looking forward to March 22, when the past four years of preparation for the £5·5bn upgrade of London's north-south cross-city line (RG 3.08 p172) becomes properly visible to the line's 36 million passengers/year and the capital's inhabitants.
According to Mitchell, preparatory work is well advanced for this month's timetable change, code-named Key Output 0. This will see the closure of the Farringdon – Moorgate branch and changes to the service patterns clearing the way for the start of reconstruction. Enabling works include construction of a new footbridge at Farringdon to improve interchange to London Underground's Circle Line, and a temporary entrance at Blackfriars station.
LU's District Line platforms at Blackfriars close on March 2 for around 2½ years, during which time the main line station, which is partly sited on a bridge over the Thames, will be completely dismantled and rebuilt at a cost of £500m while the trains keep running. By the time the first phase, or Key Output 1, is completed at the end of 2011, both Blackfriars and Farringdon will have been rebuilt to accommodate 12-car trains running at 16 trains/h. As part of the work a new 20 MW traction substation is being built at Blackfriars, which Mitchell says will be the largest on the 750 V DC third-rail network.
After a short pause during the 2012 Olympics, work on the second phase will begin in 2013. This includes complete reconstruction of London Bridge station and new grade-separated approach tracks, plus the completion of a connecting spur from the low-level platforms at St Pancras to the East Coast Main Line. Installation of an ETCS/ATO signalling overlay will allow the operation of 24 trains/h through the core section, with a minimum design headway of 120 sec. The Department for Transport has started procurement of 110 new 240 m and 160 m long EMUs to work the upgraded route. By the time that Key Output 2 is completed at the end of 2015, Mitchell says, the passenger capacity of the route will have been increased by 450%.