UK: Economic recession is starting to put strains on the UK rail industry, after steady growth in the years following privatisation. Stringent efficiency targets have been set for Network Rail over the next five years, and concerns are emerging that some franchises may not meet ambitious revenue projections.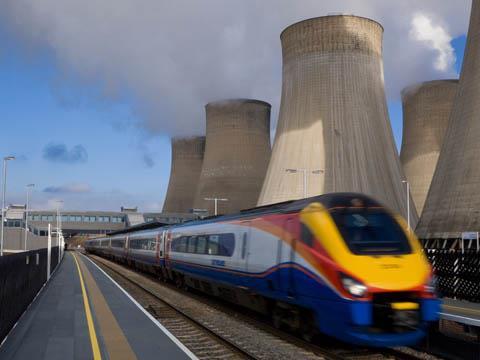 April 1 sees the start of the next five-year control period for Network Rail, which will see 'unprecedented investment' in expanding the UK rail network, according to Chief Executive Iain Coucher. Announcing on February 5 that the infrastructure manager had decided to accept the budget determination issued by the Office of Rail Regulation for Control Period 4, Coucher admitted that 'the task the ORR has set us is a tough one, with ambitious savings to be made and further service improvements to deliver.'
NR's decision not to challenge ORR's Final Determinations, issued in October 2008, brings to an end almost three years of negotiations between government, regulator and industry players to set the financial framework for the UK rail sector until 2014.
In setting a total budget of £28·5bn, ORR has had to balance the funding available from the government, official aspirations for the rail sector as laid out in the High Level Output Specification, and the revenue that Network Rail is expected to earn from track access charges and other sources. In fact, two HLOS packages and Statements of Funds Available were published in July 2007, by the UK government for England and Wales and by the devolved Scottish government. Network Rail set out its own spending proposals in its Strategic Business Plan in November 2007 (RG 3.08 p157).
ORR's final settlement must balance the money needed for operations, maintenance and renewals with provision for investment in extra capacity and enhanced performance. Over the five years to March 31 2014, NR has been allocated around £10bn for day-to-day operations and maintenance of its 16 000 route-km network, and £10·8bn for renewals. This leaves £7·6bn to fund a wide range of enhancement projects.
Specific targets set by ORR include improved punctuality, with 92·6% of passenger trains expected to reach their destination 'on time' during the final 12 month period.
Efficiency challenge
One of the biggest challenges for NR is a demand for efficiency savings in maintenance and renewal costs, totalling 21% over the five years, and 35% by the end of CP5 in March 2019. NR points out that this comes on top of efficiency improvements totalling 27% in the past five years.
ORR and NR have been comparing maintenance and renewals expenditure against UIC's Lasting Infrastructure Cost Benchmarking database and other information from railways across Europe and North America. ORR believes there is a 'significant efficiency gap' between NR and other infrastructure managers, suggesting it could be as much as 44% in the best case.
NR has been working to get maintenance and renewal costs down ever since Railtrack's costs spiralled out of control following the Hatfield derailment in October 2000 which ultimately led to that company's downfall. NR is currently tendering a new round of framework track renewals contracts, and has shortlisted seven contractors for enhancement works.
Announcing the bidders on January 21, NR revealed that it was reducing by 'around 25%' the volume of track renewals in the first year of CP4, although total outputs for the five years remain as planned. The deferral is intended to allow time to develop more efficient working methods, including the use of more high-output equipment which should deliver lower unit costs and reduce the need to compensate passenger and freight operators for line closures. NR also believes that increased use of modular renewal techniques for both plain line and switches & crossings will reduce costs.
Several modular stations are taking shape around the network. 'This is only the start', Coucher told the Railway Study Association in London last November, adding that 'we want modular level crossings, modular car park barriers, modular everything. The aim is to install new kit with less disruption.'
Investing in capacity
Coucher believes that enhancements pose the biggest single challenge in CP4. Pointing out that passenger-journeys had almost doubled from 700 million in 1995 to 1·3 billion in 2007, he explained to the RSA that 'all the extra passengers can give us some headaches. We are now getting seriously overcrowded stations, and this has safety implications.'
A related issue is 'reconciling the differing and often conflicting demands of long and short-distance passengers and freight customers within the constraints of a crowded network', he added. 'In 1994 there were 14 000 trains a day on the network. By 2002 it was 17 000, and now it is 24 000 — and the infrastructure on which all these extra services have had to be accommodated has hardly changed at all.'
Network Rail's biggest single enhancement project during CP4 is the £5·5bn Thameslink Programme to update London's north-south cross-city link (p56). NR is also undertaking upgrading work on the Great Western and Great Eastern Main Lines in connection with the Crossrail project, which is being managed by a separate company, under the leadership of Transport for London.
Other station projects include a £475m rebuilding of London King's Cross with a new concourse area and an extra platform. The busy hub at Birmingham New Street, which has seen a 40% increase in passengers since wholesale redevelopment of the nearby shopping area, is to be remodelled under the Birmingham Gateway project. And a comprehensive remodelling at Reading will add six new platforms and a grade-separated junction at an estimated cost approaching £500m. To the east of London, around £300m is being spent on capacity enhancement measures to cope with anticipated traffic to and from the venues for the 2012 Olympic Games.
Electrification priority
Reflecting the limitations of a lengthy planning process in a changing market, there was no provision for electrification in the England & Wales HLOS for CP4. But since 2007 there has been a growing recognition that this will be essential to enhance capacity, reduce operating costs and support national environmental policies.
'In my opinion, the arguments in favour of electrification are irresistible', says Coucher, predicting that NR 'will electrify at least 5 000 km of railway that is currently diesel-worked. That would mean 10 km a week for a decade, which is a massive work programme.'
In order to achieve high installation rates at low costs, NR is currently looking at developing high-performance electrification 'factories' similar to its high-output track renewal trains. Coucher believes this could cut the average cost from £1m per km of track to less than half that figure.
There is a three-year lead time for new equipment, so NR is not concerned by the lack of funding for electrification in CP4. 'There is plenty of preparation work we can do', Coucher emphasises, adding that 'in my opinion, we will be starting in earnest in three or four years' time.'
Electrification is making faster progress in Scotland, where the devolved government did commit to an ambitious programme in its HLOS requirements. Work is underway on the Airdrie – Bathgate line which is being reinstated as a fourth corridor between Glasgow and Edinburgh. This is the first part of a five-stage plan which will see the main line between the two cities electrified by 2016 and most remaining routes in Scotland's Central Belt wired by the end of that decade.
Looking further ahead, Network Rail has already started to second engineering staff to the High Speed Two development company established by the government to look at the development of domestic high speed lines (RG 2.08 p3). With several main lines forecast to run out of capacity by 2025, the company has been conducting its own studies to examine where additional tracks and new lines may be required, although construction is unlikely to start before 2014-19 at the earliest.
Raising funds
Much of NR's finance for investment has been raised through commercial debt, backed by a financial indemnity from the government. However, the infrastructure manager said last year that it hoped to raise £4·4bn of new debt during CP4 without this support. By the time the Final Determinations were issued in October, what ORR described as 'conditions in the financial markets' had changed the strategy. The proportion of unsupported debt issued each year was expected to grow incrementally from a low start to reach 80% by the final year of CP4. At the same time ORR increased the allowable return on the company's Regulatory Asset Base to 4·75% to reflect the uncertain market conditions.
However, NR admitted in February that 'the nature of the final determination and its challenges, coupled with current market conditions, has meant that Network Rail's plan to raise around £6bn of corporate debt (without the support of a government indemnity) has had to be postponed. The money will still be raised through the bond markets but with the government indemnity attached.'
NR still believes that it is 'in its best interest to raise totally-independent finance', and says that it 'will continue to review the prospects of going to the market in its own right, later in CP4.'
Operators under pressure
With most funding finding its way into NR's coffers, either through direct grant or access charges, there has been an explicit desire on the part of the government to change the balance between taxpayer and farepayer, with rail users expected to fund an increasing proportion of the rail industry's total costs. This has had a major impact on the passenger train operators.
In awarding new franchises over the past three or four years, the Department for Transport has been looking for greater returns, and many operators have signed up to massive premium payments for the right to run the franchises (RG 2.07 p81). But these payment profiles depend on strong revenue growth throughout the franchise term. In most cases the growth profile is 'back-ended' to reflect the 'cap-and-collar' provisions in the franchise agreement under which any longer-term revenue shortfalls and excesses are shared with the taxpayer.
It is not yet clear whether this model will be able to survive the global economic recession. The UK rail sector has not seen a major fall in traffic since before privatisation, when BR's last significant downturn occurred in 1989-91. Some London commuter services are reported to have seen falling traffic, but inter-city operators claim that numbers are holding up. Nevertheless, several operators, including National Express and Stagecoach, have announced economy measures, consolidating back-office functions, withdrawing restaurant car facilities, and laying off staff.
Given that the 19 franchisees, collectively, are committed to raising an extra £290m in revenues during 2009-10 compared to 2008-09, there are growing concerns as to whether this can be achieved. Appearing before the Commons Public Accounts Committee on January 21, DfT's Director General, National Networks, Dr Mike Mitchell revealed that an unspecified number of franchises were showing 'red lights' on the department's 'traffic light' system to monitor the financial health of the train operating companies and their holding groups.
Asked whether DfT might have been over-optimistic in assuming that subsidy would reduce due to a strong increase in passenger-journeys, Mitchell admitted that 'this is clearly a concern', but added that while the economic downturn was 'obviously' having an effect, revenues 'appear to be holding up reasonably well'.
Rolling stock strategy
Recognising that steady growth in demand would require additional rolling stock, the government included a commitment in the HLOS to support the introduction of an extra 1 300 vehicles during CP4, adding around 10% to the national fleet, subject to negotiations with the franchisees. However, DfT's Rolling Stock Plan remains a work in progress, and little more than a third of the total has yet been ordered. Some of these are add-ons to existing builds, including the lengthening of the Class 390 Pendolino tilting trains on the West Coast Main Line, but three major procurement exercises are underway.
On November 25 Secretary of State for Transport Geoff Hoon confirmed that as part of a national economic stimulus package £300m was being made available in 2009 to accelerate the procurement of 200 DMU cars 'to relieve congestion on the Great Western, Northern and Transpennine rail franchises'. But rather than exercising an option for an existing design for rapid delivery from 2010, DfT invited open bids on a very tight timescale. On December 22 it announced that four suppliers had prequalified for the order, which would see the vehicles entering service by 2012.
Procurement of a fleet of up to 1 200 EMU vehicles to operate the enhanced Thameslink services (below) is also progressing, with invitations to tender issued to four prequalified bidders on November 27 (RG 1.09 p9). This contract is due to be awarded by March 2010, with the first trains entering service at the end of 2012.
Finally, Hoon announced on February 12 that the Agility Trains consortium of Hitachi, John Laing and Barclays had been selected as preferred bidder for the Intercity Express Programme, ahead of a rival bid from the Express Rail Alliance of Bombardier, Siemens, Angel Trains and Babcock & Brown. The IEP deal envisages the supply of up to 1 400 vehicles under a train service provision concession worth £7·5bn.
Originally planned as a replacement for the 200 km/h diesel HST fleet, IEP is now expected to undertake a wide mix of duties ranging from long-distance inter-city services to outer-suburban commuter routes. Electric, diesel and bi-mode versions are envisaged, but with the acceleration of electrification strategies the business case for new diesel inter-city trains with a service life of 30 years or more is widely considered uncertain at best.
To be assembled in the UK with Japanese-built bodies, the 200 km/h Super Express Trains would replace existing IC125 and IC225 trainsets on the East Coast Main Line from 2013. Later builds would be introduced on the Great Western Main Line between London, Bristol and South Wales from 2015. The design is also expected to be used on commuter services from London to Oxford and Cambridge. Further options cover the London – Exeter – Penzance route and commuter services on the West Coast Main Line.
DfT hopes that the private financing package for IEP can be finalised by the end of this year, despite uncertainties in the banking sector and a general reluctance to lend. But whilst the government remains committed to supporting rail investment, the industry's ambitious plans may yet have to be tailored to fit the changing economic climate.
Network Rail's income and expenditure budget, 2009-14,
£m at 2006-07 prices

2009-10
2010-11
2011-12
2012-13
2013-14
Total
Gross revenue requirement (expenditure)
Maintenance
1?091
1?047
1?000
960
918
5?016
Controllable operational expenditure
723
702
674
647
621
3?368
Non-controllable opex
329
350
361
369
373
1?781
Penalty payments
170
151
153
123
116
712
Allowed return
1?530
1?641
1?734
1?801
1?853
8?561
Amortisation
1?458
1?458
1?458
1?458
1?458
7?290
Total
5?301
5?349
5?381
5?357
5?340
26?728
Income sources
Franchised operators, variable
437
443
454
463
468
2?265
Franchised operators, fixed
744
782
760
900
1?160
4?346
Freight operators
68
70
71
73
75
357
Open-access operators
18
18
18
18
18
88
Station charges
137
137
137
137
137
686
Penalty regime
170
151
153
123
116
712
Other income
323
323
348
376
386
1?754
Network grant
3?405
3?426
3?440
3?269
2?980
16?520
Total income
5?301
5?349
5?381
5?357
5?340
26?728