EVOLUTION: Engineers with vision have an essential role to play in driving the revitalisation of Europe's railways to meet the needs of a modern society.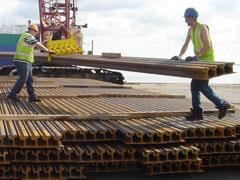 Railways have a long and proud heritage. When this new mode emerged in the early 19th century, it was widely welcomed by the public, by governments and industry, helping to drive economic prosperity. But little more than a century later interest turned to personal mobility, and railways were seen as old technology.
Today, the prospects for rail are brightening again. Those with foresight have identified serious problems in the not- too-distant future. We have seen a rapid growth of congestion, caused by a rising world population, the emergence of megacities and the concentration of economic activity, both industrial and commercial. Apart from environmental problems such as greenhouse gas emissions and noise, reliance on cars requires vast space for parking all those vehicles that are not moving. Hence today's huge interest in metro and light rail projects in cities right across the globe.
And we have to recognise that energy supply is limited. Independent experts have long been predicting that peak prod­uction of fossil fuels will be reached in the early years of this century, with a steady decline thereafter. It is not surprising that the oil- prod­ucing states are already preparing for 'the time after oil'. The Middle Eastern economic press repeatedlyemphasises the urgency of far-sighted investment. But what about Europe? Or the rest of the world? We seem to believe that the status quo will last for ever.
European decision-makers - the Council of Ministers, the Commission and the Parliament - must be aware of the situation. Ever since Directive 91/440 set out to liberalise intermodal traffic, European transport policy and legislation has focused on revitalising the railways to increase their market share. The idea is that greater integration will create a single market for passenger services and more particularly for freight.
The latest attempt is the proposed 'Regulation for a European freight network', now being discussed by the member states (p19). But convergence is also a driver for technical development, such as ERTMS for example. Enormous investment in railway infra­structure is underway in many states, to enhance capacity and reduce journey times.
Is this all being done simply to keep our present railway alive? Certainly not. It is without doubt preparation for the future.
The political expectation is that Europe's railways should be handling twice as much traffic as today. But for the industry to achieve this goal will require involvement from everyone:
to keep the existing network operational without any restrictions;
to accommodate growing traffic and increase capacity;
to recognise that freight terminals are an indispensable part of an effective intermodal transport chain, and include them in the planning process;
to reduce (or remove) the differences between the technical and operational practices of railways in the various member states;
to build new and powerful arteries for the single European market;
to take advantage of rail's much lower energy needs compared to other modes;
to create a truly interoperable European railway network.
Rail investment, particularly in infrastructure, needs a long time to come to fruition, mostly because of legal and administrative processes. But the railway is still a technical industry, and engineers have a vital role in deciding how the various requirements can best be met. Even more than legislation, it is engineers that will dictate whether the goal is achieved, and there are some crucial decisions to be taken.
I believe that it is essential for railway engineers throughout Europe to co-operate more closely, in governments, authorities and right across the rail sector. Engineers are not just servants of the industry, but pacemakers in the unification process.
Since it was formed, the Union of European Railway Engineering Asso-­ c­iations has organised conferences and symposia to transfer technology, predominantly between the EU and the CEE countries. Today we must share ideas throughout Europe and beyond. With all our skills and vision, we have the opportunity to build the railway of the future, and we must grasp it for the sake of generations to come.
Prof Dr-Ing Dipl-Ing Klaus Riessberger was elected Presi­dent of the Union of European Railway Engineering Associations (UEEIV) in April. Professor of Railway Engineering & Transport Economics at Technical University Graz since 1984, he is a member of the supervisory boards of Siemens STS Austria and VAE; from 1971 to 1984 he was Head of Research & Development at Plasser & Theurer.