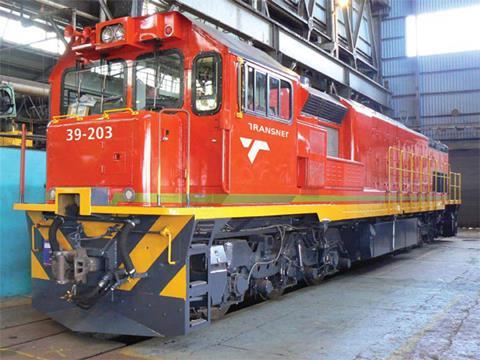 SOUTH AFRICA: The first of 50 Class 39-200 diesel locomotives being assembled for Transnet Freight Rail by Electro-Motive Diesel and Transnet Rail Engineering was rolled out of TRE's plant at Koedoespoort on March 23.
Designated GT26CU-3, the 3 000 hp Class 39s are the first new diesel locomotives to be delivered to Transnet Freight Rail (formerly Spoornet) in 20 years. The remaining locos are scheduled for delivery by the end of the third quarter of 2009.
The locos are being assembled, painted and tested at TRE by a joint team of EMD and TRE employees. They are powered by a 16-cylinder EMD 16-645E3 engine with an AR10-CA5 alternator. EMD has supplied the high voltage cabinet and EM2000 microprocessor controls with its FIRE display system.
More than 40% of the parts have been sourced in South Africa, including the fuel tanks, cab, engine and cooler hoods, underframe structures, bogie frames, sandboxes and equipment racks. As well as assembling the locos, TRE is acting as the main subcontractor under a technology transfer agreement.
Albert Enste, EMD's Vice-President, International Sales & Service, said 'The success of the GT26CU-3 locomotive is vital to providing safe and reliable cost effective diesel freight locomotives for rail operators in the South African region that would otherwise not be able to replace older fleets that have become unreliable and, in some cases unsupportable through obsolesce.'
Having delivered more than 600 diesel-electric locomotives over the past 40 years, which form the backbone of TFR's fleet, EMD says it hopes the Class 39 project is 'the beginning of a long-term relationship between EMD and TRE in building or rebuilding locomotives and locomotive subassemblies'.
According to the supplier, 'building the GT26CU-3 locomotives utilises the combined efforts of EMD's technology and TRE facility and resources, which will have long lasting benefits for both companies.'