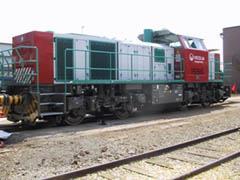 FRANCE: Campus Veolia Environnement has recently purchased six Simolia portable simulators from Oktal to train its freight drivers on the RFF network. Instead of sending staff to the supplier's premises for training, the compact desktop units are supplied in a free-standing box which is installed at the customer's facilities.
Multiple driver training is possible, since one instructor can monitor six simulators, and training results are recorded and stored centrally so that training can be adapted to each student's needs. The devices can run either generic simulations or specific routes, for initial driver training and continuous development. The generic programme incorporates the typical incidents a driver may have to deal with over a 50 km to 80 km route.
Established in 1989, Oktal has supplied over 80 simulators in Europe, the Middle East and Asia. Most recently, in June 2008, a full scale Flirt simulator was supplied to SNTF for driver training on the 64 four-car Stadler EMUs due to operate suburban services in Alger.
Work is currently underway to renovate SNCF's full-scale research simulator and workshop in Lille; originally delivered by Oktal in 1999, the Simufer simulator was upgraded to include ETCS Level 1 functionality in 2004 and is now undergoing a major renovation.