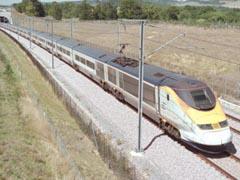 EUROPE: Announcing its 2008 results on January 13, Eurostar reported that it had carried a record 9·11 million passengers in the 12 months, up 10·3% on the year before. Revenue from ticket sales rose by 10·9% to £664m.
The leap in traffic followed the switch from Waterloo to St Pancras on November 14 2007, and the completion of High Speed 1. In Quarter 1 the year-on-year rise was more than 21%, while the first-half result to June 30 was up by 18%. But growth was then dented by the fire in the Channel Tunnel last September (RG 1.09 p22).
Without the fire, traffic in 2008 would probably have topped the psychologically-important 10 million mark. Nevertheless, Eurostar reported that 92·4% of services arrived at their destination within 15 min of the advertised time, compared to 65·4% for competing airlines according to figures from the UK Civil Aviation Authority.
Repairs to the tunnel are due to finish on February 10, and Eurostar plans to revert to its full timetable on February 23. Chief Executive Richard Brown expects 2009 to be a tough year, given 'the uncertainties of the current economic climate', although President Guillaume Pepy predicts that turnover will grow by a few percentage points. Business travel accounts for 20% of Eurostar traffic but 50% of revenue.
Describing London - Paris as 'the premier route in Europe', Pepy expects that 'there will certainly be new arrivals' when international passenger services within the EU are opened up to competition in 2010. Eurotunnel Chairman Jacques Gounon confirmed last month that DB and Air France/Veolia had enquired about open access rights, and Alstom had been checking whether its AGV would meet the Channel Tunnel safety regulations.
Speaking in Berlin on January 14, DB Chairman Hartmut Mehdorn revealed that DB was interested in acquiring the 33% stake in Eurostar now owned by the UK government through London & Continental Railway, alongside SNCF's 62% stake and SNCB's 5%. Pepy condemned the suggestion as 'premature, presumptuous and arrogant'.