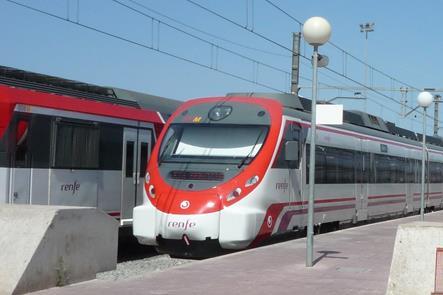 Spain's RENFE aimed to reinstate approximately 90% of its Cercanías suburban services on weekdays from May 11, reducing to 60% at weekends. Operations will be adjusted to suit demand in each city while ensuring that social distancing is possible. Over the two months of lockdown, demand on Cercanías services has fallen to between 10% and 20% of levels recorded in March and April 2019.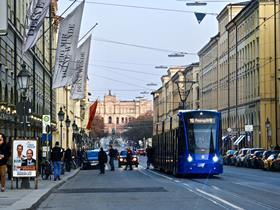 München transport and fare association MVV has begun providing free access to local public transport data under a Creative Commons licence through a dedicated area of its website. This includes a modular system to create forms or departure monitors for MVV timetable information with just a few clicks. MVV plans to offer a timetable information API for non-commercial purposes using the TRIAS interface according to VDV 431.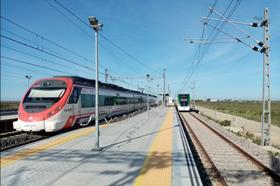 The Junta de Andalucía's Public Works department has awarded a consortium of Efacec and Moneleg a €1·96m three-year contract to maintain the electrical supply systems for the tramway section of the future Cádiz tram-train route, including the main and auxiliary substations, the power supply to the depot in Chiclana de la Frontera, and that to the stops on the line, together with the upkeep of electrification masts. Test running restarted on April 17 and now involves two tram-trains in 15 h daily sessions.
Massachusetts Bay Transportation Authority has announced a closure of the Lowell Commuter Rail Line between the Anderson/Woburn and North stations for seven days from May 18 to facilitate construction of the Green Line Extension, and a 14-day closure of the Blue Line between Bowdoin and Airport. The blockades replace a series of planned weekend closures, and MBTA is assessing whether other projects can be similarly accelerated for completion at a time when both ridership and traffic on the road used by replacement buses is much lower than it is likely to be later in the year.
The local authorities in Frankfurt, Neu-Isenburg and Dreieich have agreed to share the cost of a study into the proposed the extension of Frankfurt tram Route 17 by 5·5 km from Neu-Isenburg to Dreieich-Sprendlingen. The cost of the project is estimated at €110m, of which the federal government would cover provide 90%
Transport for NSW has called for expressions of interest in participating in trials of zero emission buses and associated technologies. These trials will be undertaken in partnership with transport operators in the Sydney and Outer Metropolitan areas as part of the New South Wales government's strategy to transition the entire public bus fleet to zero emissions.
After a successful pilot project in which ABB was involved in electrifying the Swedish city of Jönköping's first electric bus line, ABB has now received an additional order for 10 complete charging stations.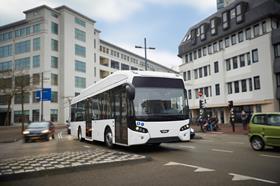 VDL Bus & Coach is to supply 21 Citeas SLF-120 Electric battery buses and associated charging infrastructure to Leipzig operator LVB from the end of 2020 for use on routes 74, 76 and 89. Route 60 will also be equipped with electric buses at a later date.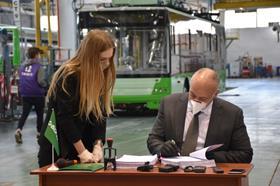 Bogdan Motors has been awarded a €55m contract to supply 29 fully low-floor single-section trolleybuses, spare parts and maintenance equipment to the Ukrainian city of Lutsk where its manufacturing site is located. The order is being party financed with a €4·36m loan from the European Investment Bank.