CHINA: On June 24 a CRH3 trainset from the Siemens Velaro family of high speed trains set a Chinese steel-wheel rail speed record of 394·3 km/h.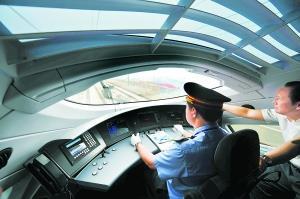 Leaving Beijing at 8:55, the train took 25 min 10 sec to cover the 118·3 km to Tianjin over the recently-completed high speed line, which is designed for 300 km/h running with provision for a future increase to 350 km/h. The train broke the previous speed record about 20 min after departure, witnessed by Minister of Railways Liu Zhijun, and a new record 394·3 km/h was achieved on the return trip.
Chinese President Hu Jintao rode on the line the next day, telling railway staff that the high speed trains are 'a milestone in the history of China's railway development.'
The CRH3 'Hexie' (harmony) trainset was built in Tangshan to the Velaro CN design from Siemens. It has a welded aluminium bodyshell around 300 mm wider than on previous Velaro designs, permitting 3+2 seating in second class. 'We were travelling practically at sea level, as Tjanjin is a port city', said Ernst Reuß, the German firm's Velaro CN project manager 'This meant the drag coefficient was higher. Besides that, the train is heavier and wider than the Velaro in Spain. All in all, this new speed record is quite a respectable achievement.'
Chinese Railways ordered a total of 60 Velaro CN trainsets in a €1·3bn deal signed on November 10 2005. The first three were built at Siemens's Krefeld plant in Germany, and the remaining 57 are under construction at China Northern's Tangshan Locomotive & Rolling Stock Works.
Five trainsets are expected to enter passenger service between Beijing and Tianjin on August 1, with the fastest journey time being around 30 min.